*inc. 20AT., free delivery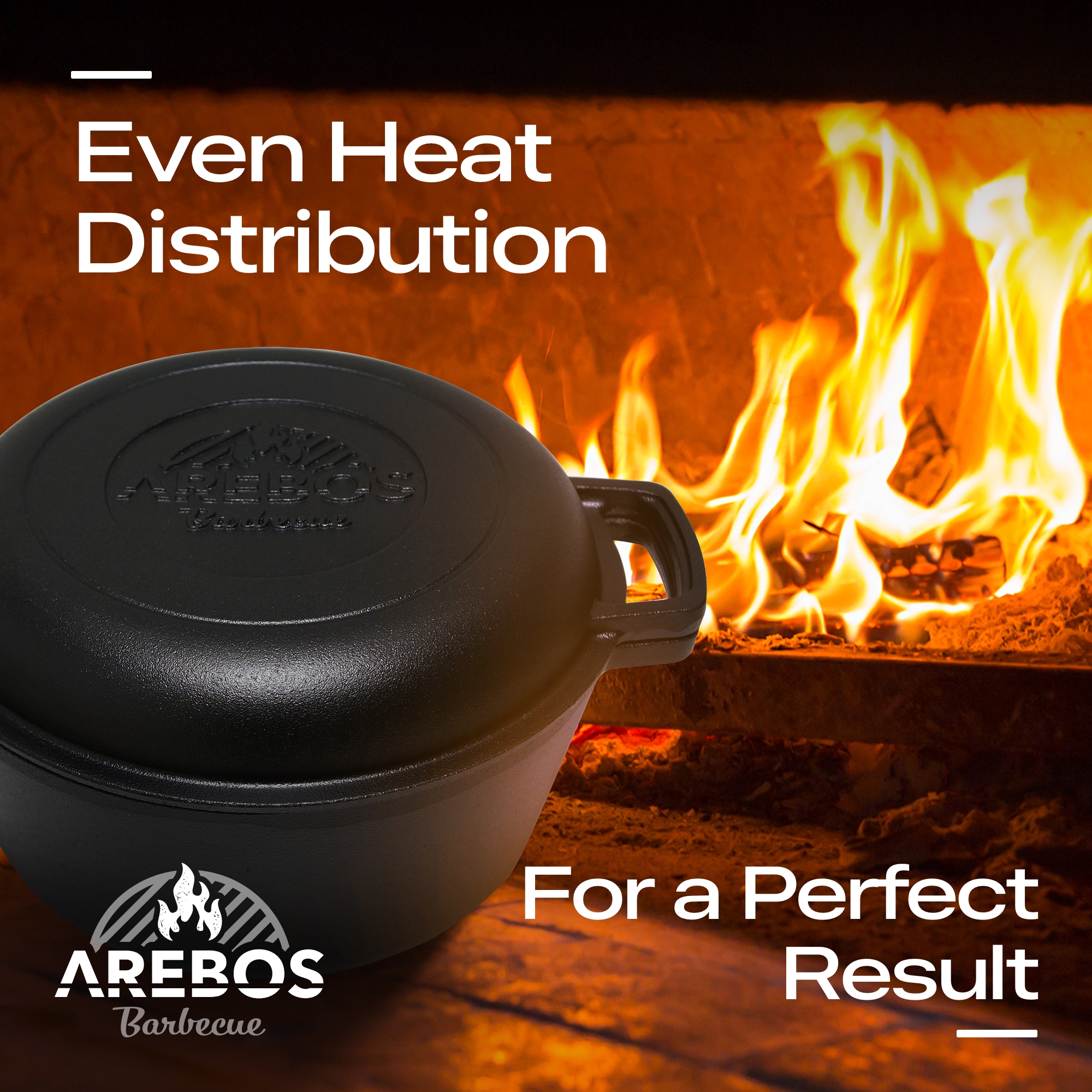 Thanks to high-quality cast iron, your Dutch oven set absorbs and stores heat excellently. This means that your dishes are not only cooked evenly, but also remain warm even after the fire has gone out. The fireproof material is practically indestructible and can be used flexibly on different cooking zones.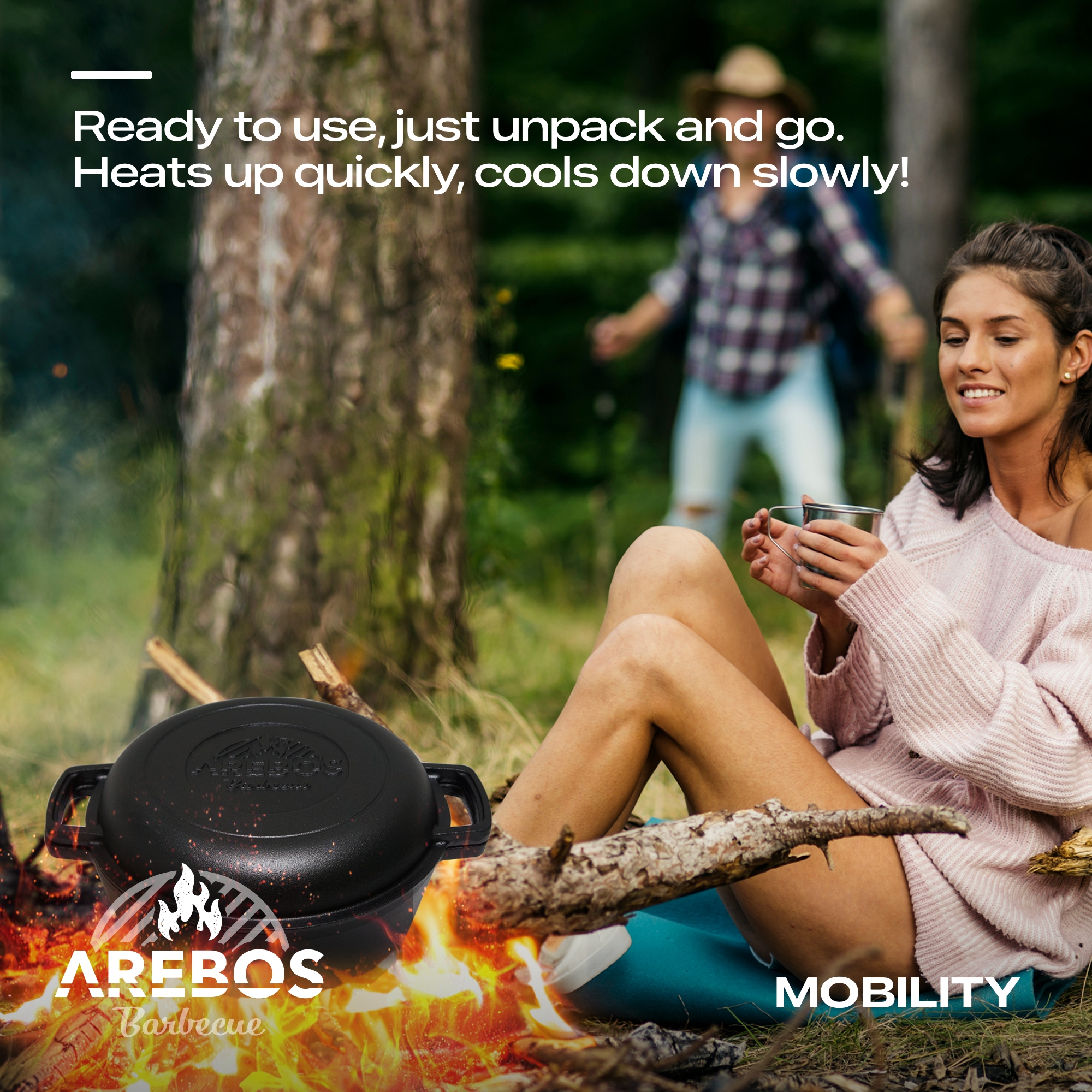 Immediately ready for use
Whether traditionally under the open sky or in the oven at home, this set contains everything you need to prepare a variety of delicious delicacies. The AREBOS Dutch Oven BBQ Set is ideal for meetings with friends, camping, hiking or barbecues outdoors. Thanks to the included storage bag, the set is compact & easy to transport and can be stored away to save space when not in use.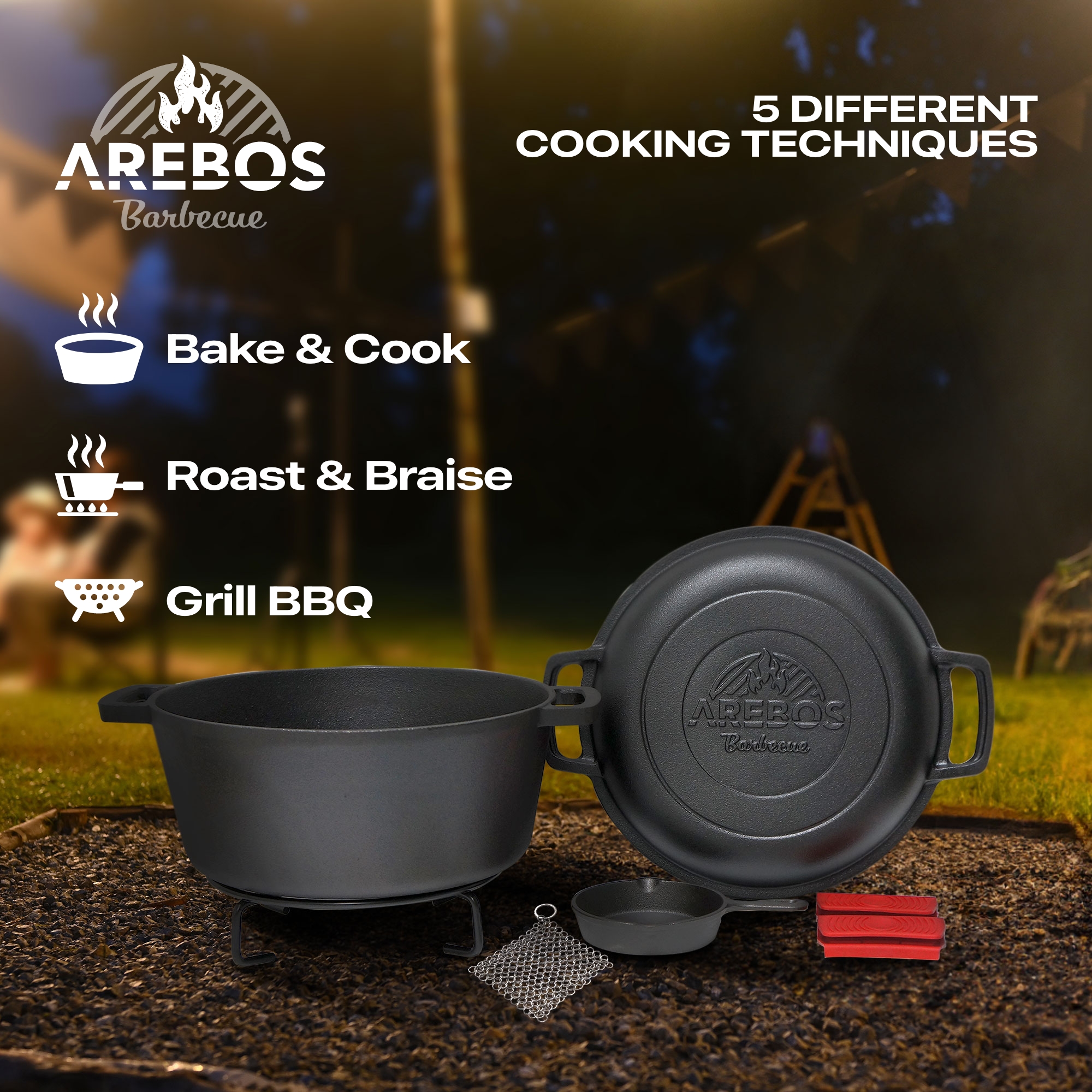 Your flexible cooking set to go
With this set, you can prepare any delicious dish. Whether boiling, steaming, frying, braising, baking - with your Dutch Oven set, it's child's play and you can do it anywhere. From rich soups and tempting steaks to delicious breads and cakes - this professional set is enough for all your cooking needs.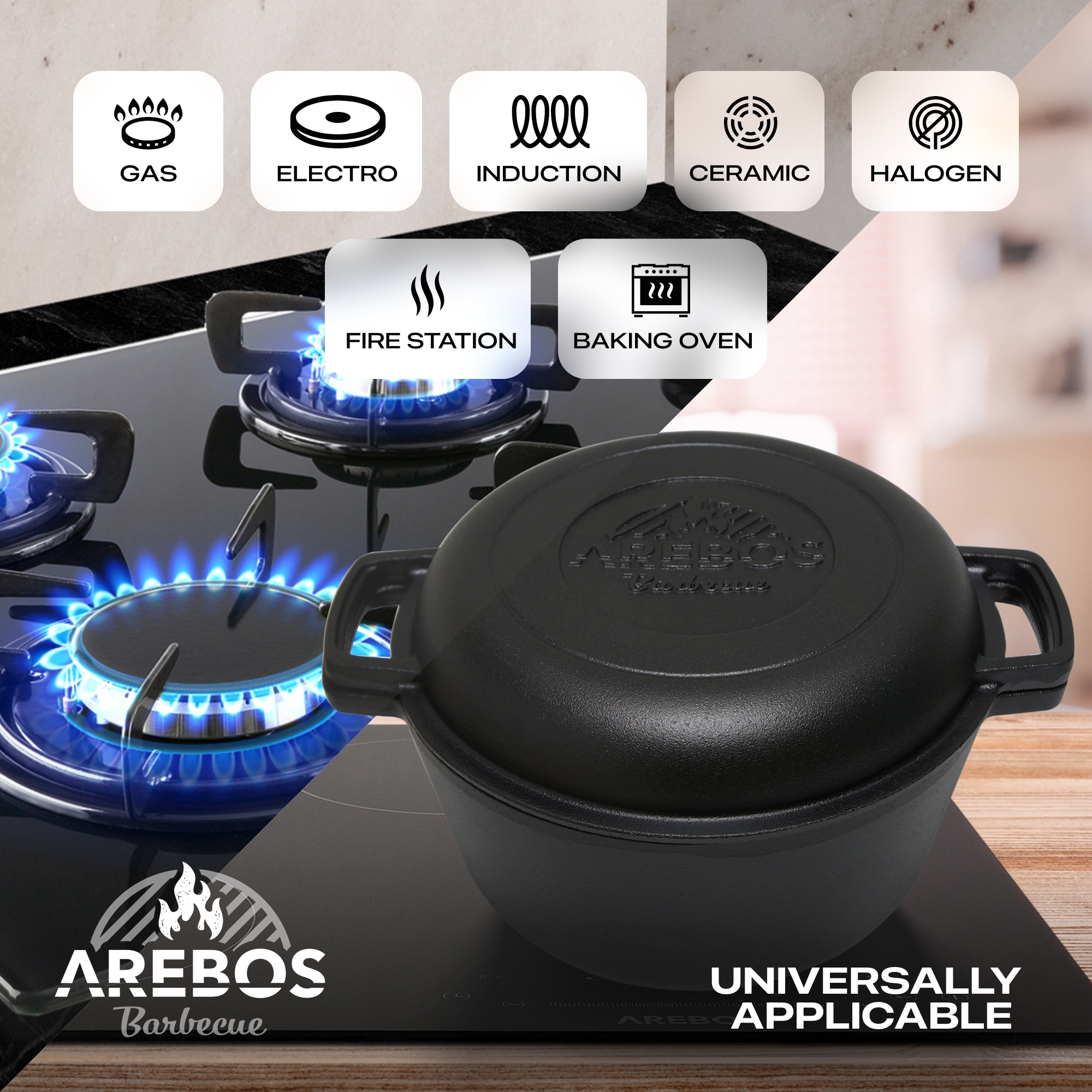 With this BBQ set you can get started straight away! The Dutch Oven is an all-rounder with which you can cook, roast and bake outside over an open fire. No matter if you use it on gas, electric, induction, ceramic cooker, in the oven or directly with embers or open fire. Pre-baked for immediate use.
Double function lid & frying pan
The lid of the Dutch oven has the same material properties as the pot and can be used upside down as a separate pan: for frying, braising, stewing, deep-frying or even for baking pancakes. A dish can also be served immediately on the lid.
The practical Dutch Oven accessories offer even more possibilities for preparing delicious dishes as well as protection and comfort when steaming. The set consists of various components such as the Dutch Oven pot with 2in1 lid, pan, pot stand, ring cleaner and 1 pair of silicone heat protection handles.
To prevent rusting, we recommend that you wash and dry the Dutch Oven thoroughly after use, coat the inside and outside with cooking oil and wipe off the excess oil. Under no circumstances should the cast iron product be cleaned with washing-up liquid or other chemical cleaners, as this would destroy the patina that protects the pot and pan from corrosion.
Incl. heat-resistant silicone protective handles
The included heat insulating hand protectors withstand high temperatures and protect your fingers from burns. Features non-slip texture on the handles and inner silicone ribs for safety when moving heavy and hot pots. The Silicone Assist Hot Handle Holders are suitable for most pots, pans and baking dishes.
Dimensions Dutch Oven pot
Height: 11,2 cm, Ø 26 cm
Dutch Oven pot capacity
4,8 L
Dutch Oven pot weight (without lid)
3,89 kg
Material Dutch Oven pot
Cast iron
Dimensions ring cleaner
10,5 x 10,5 cm
Material pot stand
Cast iron with lacquer
Material ring cleaner
Stainless steel
Pot stand dimensions
Height: 5 cm, Ø 20 cm
Silicone protective handles Colour
Red
Silicone protective handles Dimensions
8 x 4,5 x 1,8 cm
Product Family
Dutch Oven 2in1