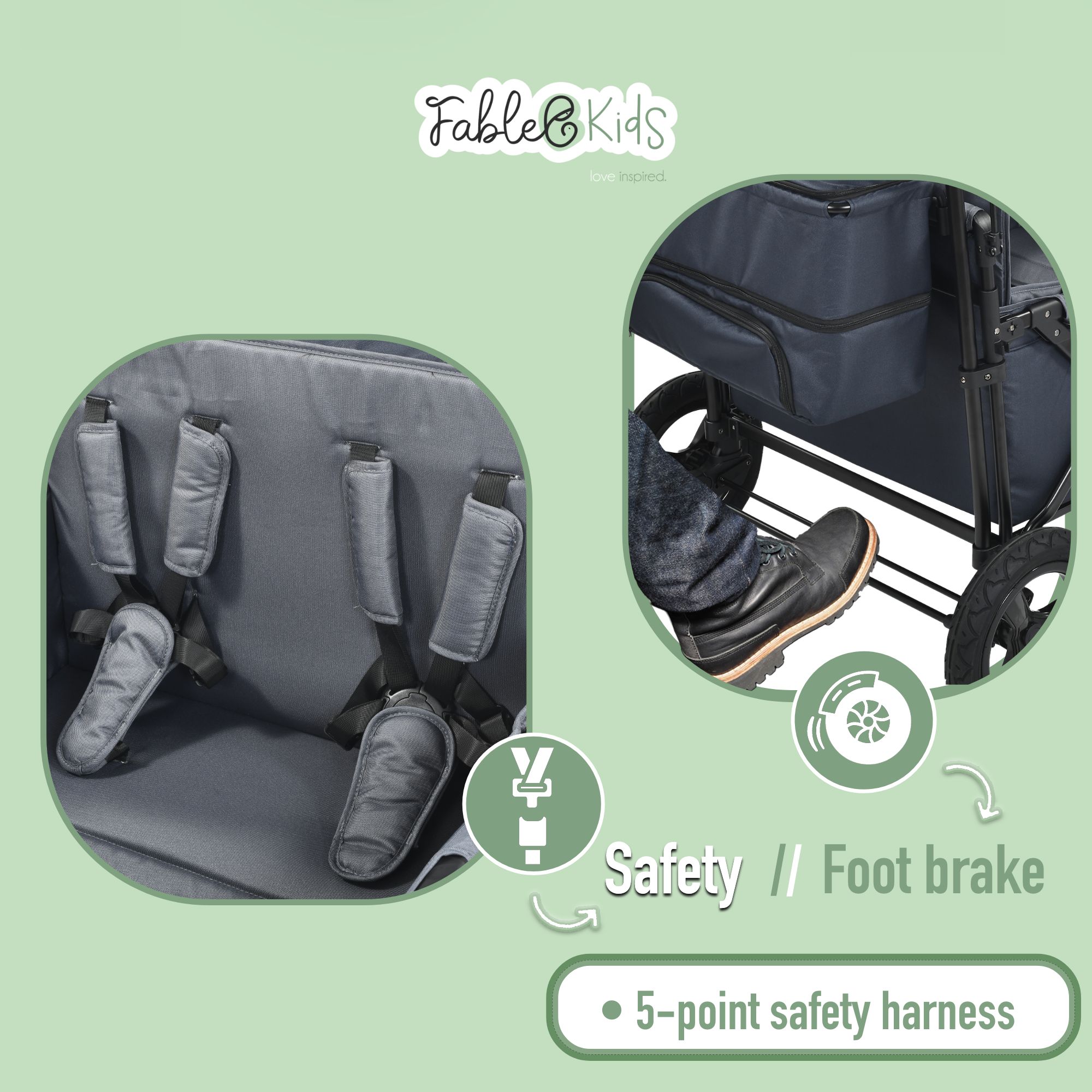 Safety first
LEO has four adjustable 5-point straps that provide maximum safety while driving. When you are standing, you can apply the foot brake with just one pedal to protect against rolling away.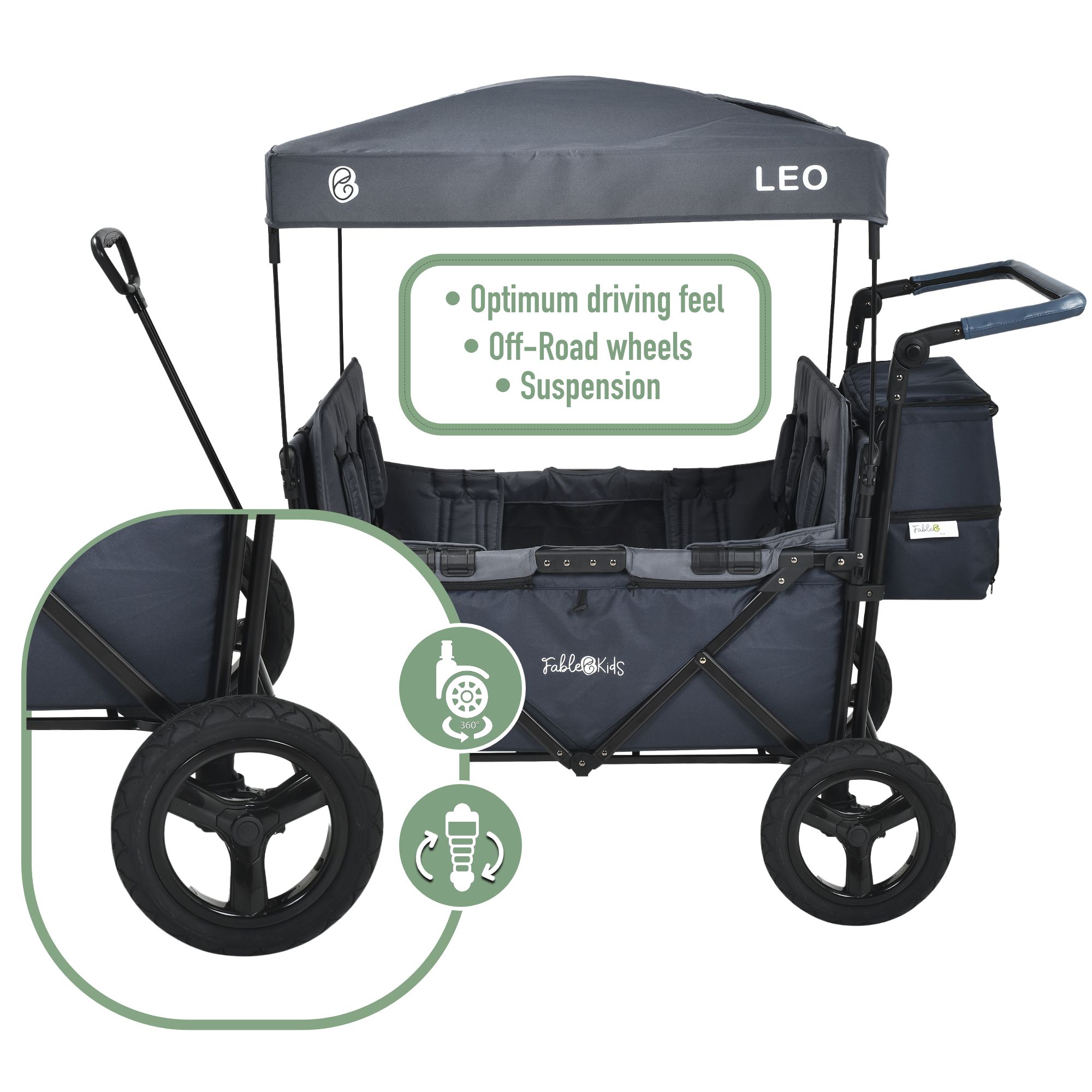 Optimal driving experience
Due to the 29 cm tall and padded off-road rear wheels as well as the sprung rear axle, you can drive easily & safely over "stick & stone". A pleasant & comfortable ride for your kids is guaranteed.
Flexible roof system
Do you prefer to drive a "convertible" or "off-road vehicle"? With LEO, both are possible with just one hand. Pull out reinforced roof poles, connect them to the plastic mounts of the headliner – done!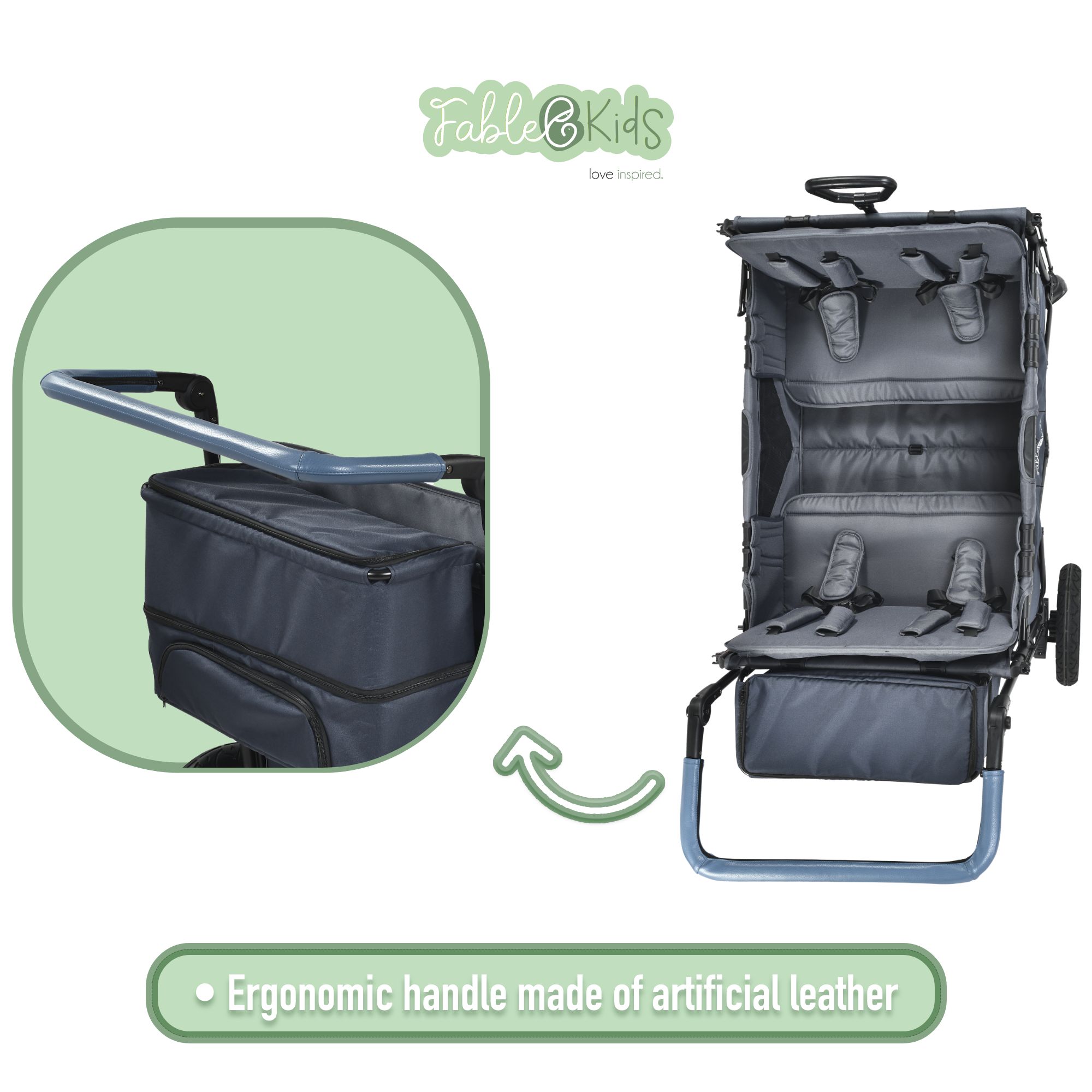 Ergonomic leatherette handles
Decide for yourself whether you prefer to push or pull. The telescopic push rod equipped with artificial leather is ergonomically shaped and height adjustable from 63-116cm - no hand calluses and back pain with our LEO!
Large storage space
Everything included! If you are traveling with children, you usually have half the household with you. For this reason, LEO has an XXL rear bag with 2 chambers and a spacious interior.
Space-saving storage
LEO can be folded with just one hand. Due to its compact folding dimensions, it also finds sufficient space in small cars. Use the cover when storing the handcart in your basement or garage.
Multifunctional
LEO X4 plus has 2 removable seats, each with 2x 5-point belts, which allow you to turn a handcart into a transport trolley in just a few simple steps.
Well ventilated
LEO X4 plus has a ventilation window on the outside of the roof as well as on the outside of the car. This prevents overheating under the roof.
Age Recommendation
0-4 years
Special Features
Oxford 600D linen textiles / washable at 30°
5-point harness
Adjustable telescopic rod with imitation leather cover
360° off-road wheels with pedal brake
Robust steel frame
Easily foldable / space-saving
Roof with viewing window / flexible roof poles
Spacious XXL rear bag with 2 chambers
Incl. storage cover
2 removable seats, each with 2x 5-point harness
Ventilation windows on the roof and outside
Warnings
Bitte bein Ein- und Entladen Feststellbremse betätigen

Features Wheels
360° rotatable
Material Bag
600D-oxford linen fabric
Material Handles
Imitation leather
Type of Handles
Push Handle
Please select a variant to see more technical details of the product.
The document to download could not be found.