Ice Cube Maker 2.2L - Stainless Steel
*inc. 20AT., free delivery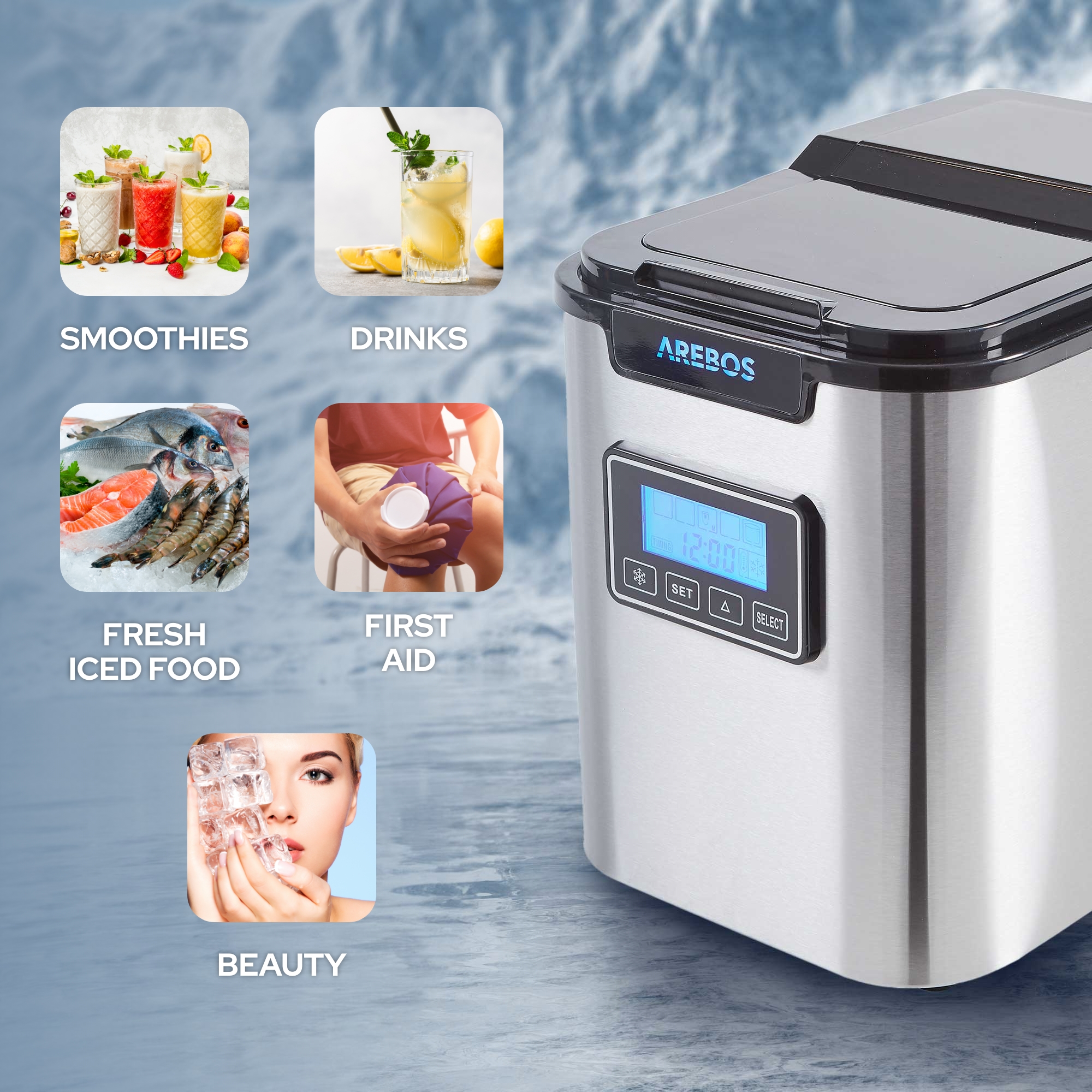 The ice cube production is automatically controlled by the digital display. The operating panel informs about the maximum fill level and the current water level.
The device features a translucent inspection window in the lid for you to watch the state of the ice production.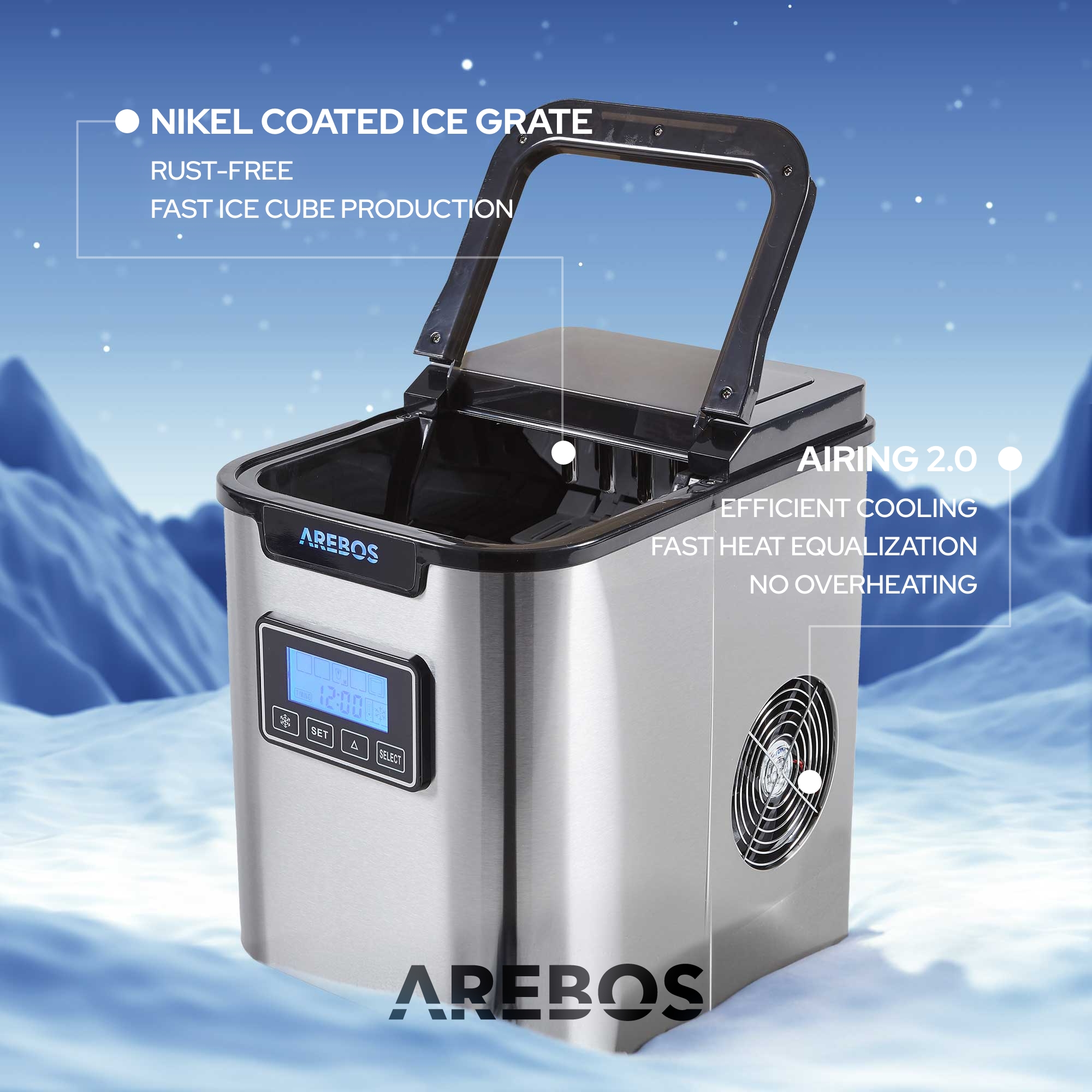 FAST COOLING MECHANISM AND BETTER INSULATION
9 nickel-plated pure copper evaporators that impress with quick cooling and high corrosion resistance features.
The ice maker features a quick cooling mechanism, low-noise operation, and low energy consumption. A thick foam layer efficiently insulates the cold.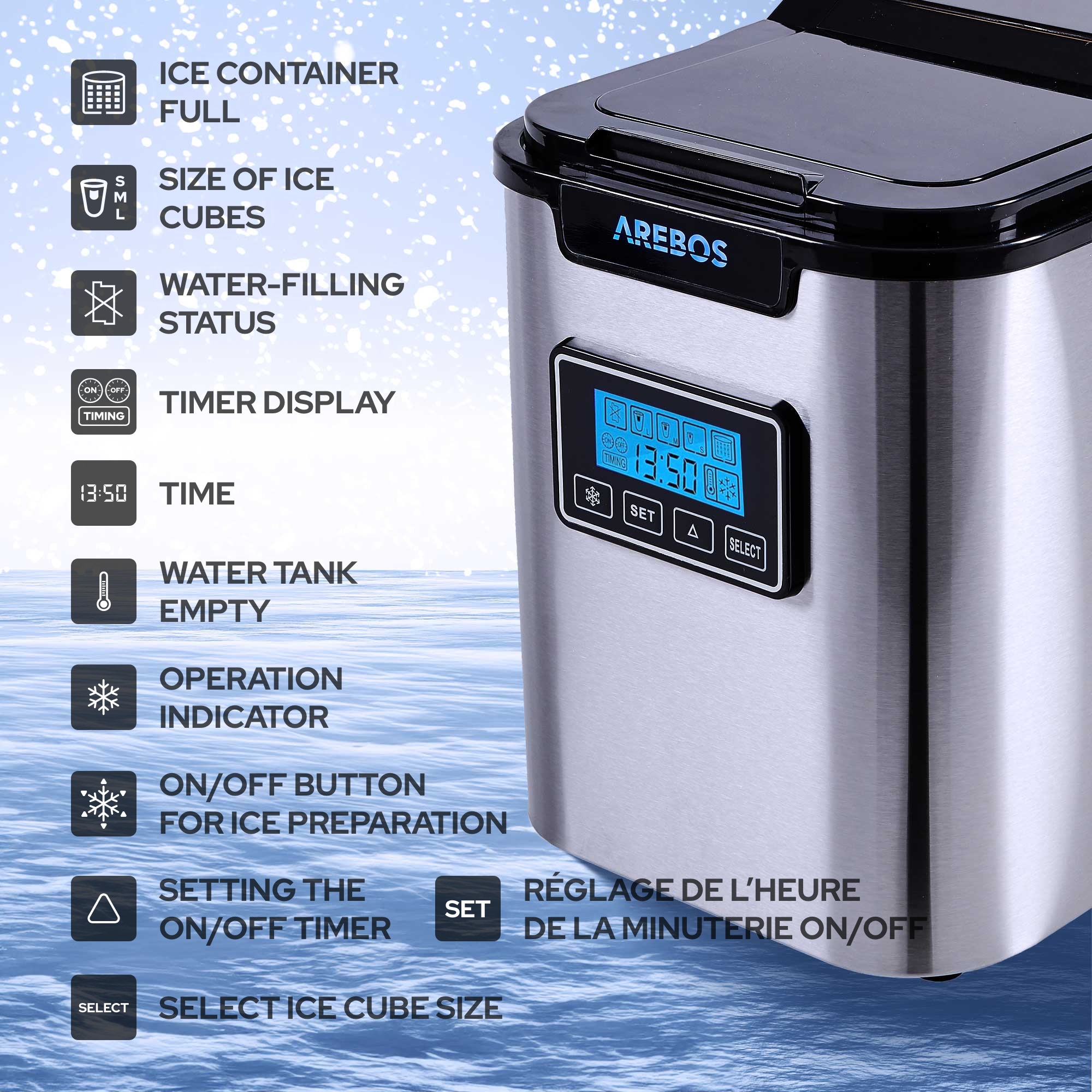 LCD – ILLUMINATED DISPLAY
An alarm sound and LED indicator lights indicate when the water level is too low or the ice cube bucket full. The energy-saving mode ensures the device turns off automatically upon completion of the program.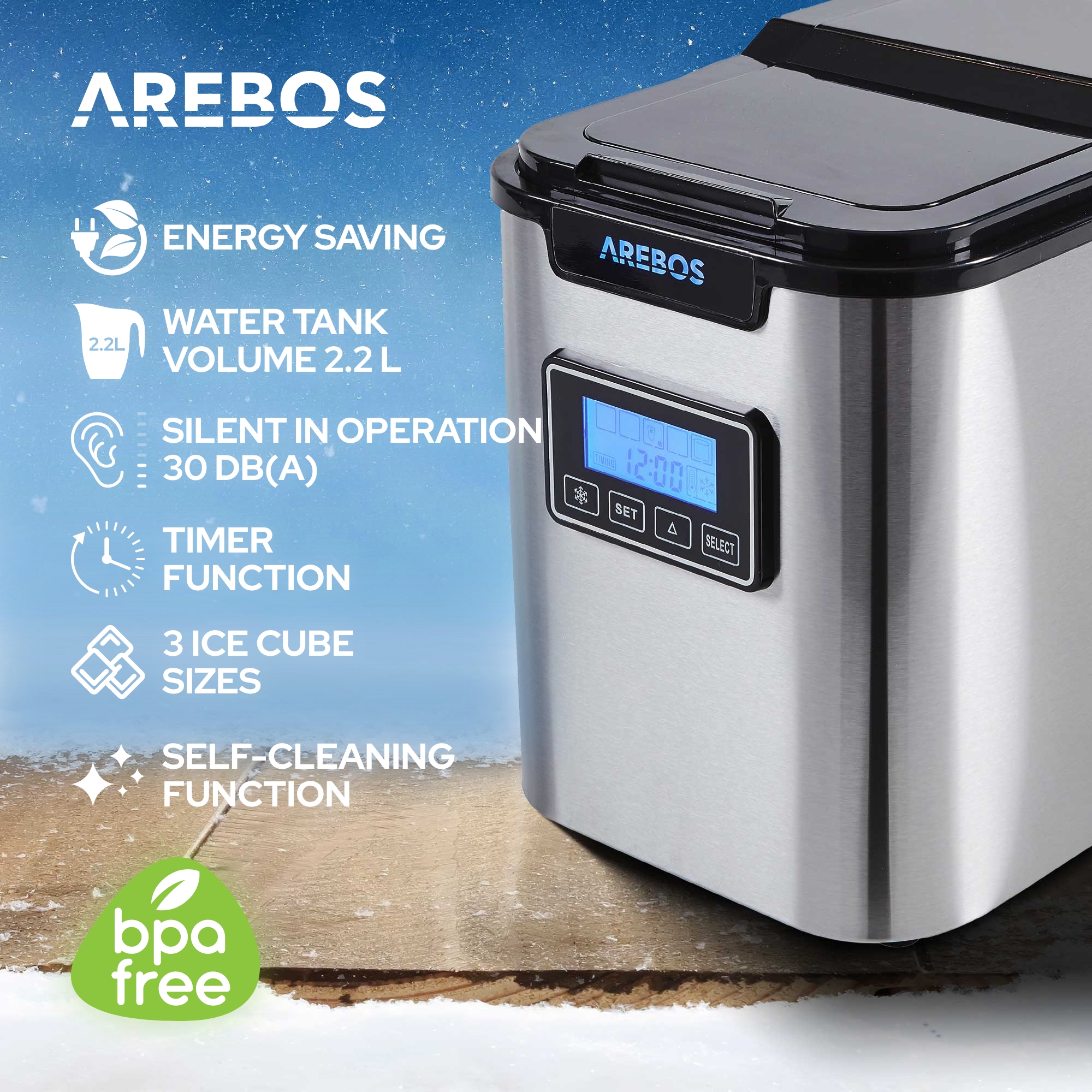 The ice maker can be operated easily with four buttons located directly below the display. The buttons also allow for setting the on/off timers.
The automatic cleaning mode saves you a great deal of work when tidying up after use of the machine. After the self-cleaning mode has stopped, the device will automatically activate standby mode.
PERFECT FOR PARTIES & EVENTS
You should never run out of ice! Let your guests enjoy an ice cold refreshing drink whenever they need it. This is a must have for all your events! Great for chilling drinks, food, smoothies and for first aid and beauty.
Age Recommendation
There is no age recommendation
Delivery Scope
1x Ice cube maker
1x Ice cube tray
1x Ice cube scoop
1x iInstruction manual

Relevance of Dangerous Goods
No
Equipment
LCD - illuminated display
Timer function
Included Equipment
1x Ice cube maker 1x Ice cube tray 1x Ice cube scoop
Special Features
2.2 l water tank – 0.4 l ice cube bucket
Three sizes (small/medium/large)
9 ice cubes in just 10-15 min
12 kg of ice within 24 h
LCD - illuminated display
Timer function
Modern design – stainless-steel housing
Incl. BPA free scoop and bucket
Easy to operate and to clean
Self-cleaning function
Environmentally friendly cooling agent R600a
Efficient cooling compressor
9 nickel-plated pure copper evaporator
Full ice bucket and water level indicators
Translucent inspection window
Amount of Ice Cubes per Day
12 kg
Cooling Temperature ( Below Ambient Temperature ) Max.
43 °C
Cooling Temperature ( Below Ambient Temperature ) Min.
10 °C
Display Technology
LCD display
Indicator Lights
On / Off Switch with LED - Power Indicator
Material Case
Stainless steel
Max. Cooling Capacity
150 °C
Size Ice Cube
3 (Small/Medium/Large)
Type of Power Supply
Mains Connection
Volume Ice Cube Tray
0.4 l
Product Family
Ice Cube Machine
The document to download could not be found.