NuaSol - Adjustable Solar Panel Mount 1180mm Set of 2 - Silver
*inc. 20AT., free delivery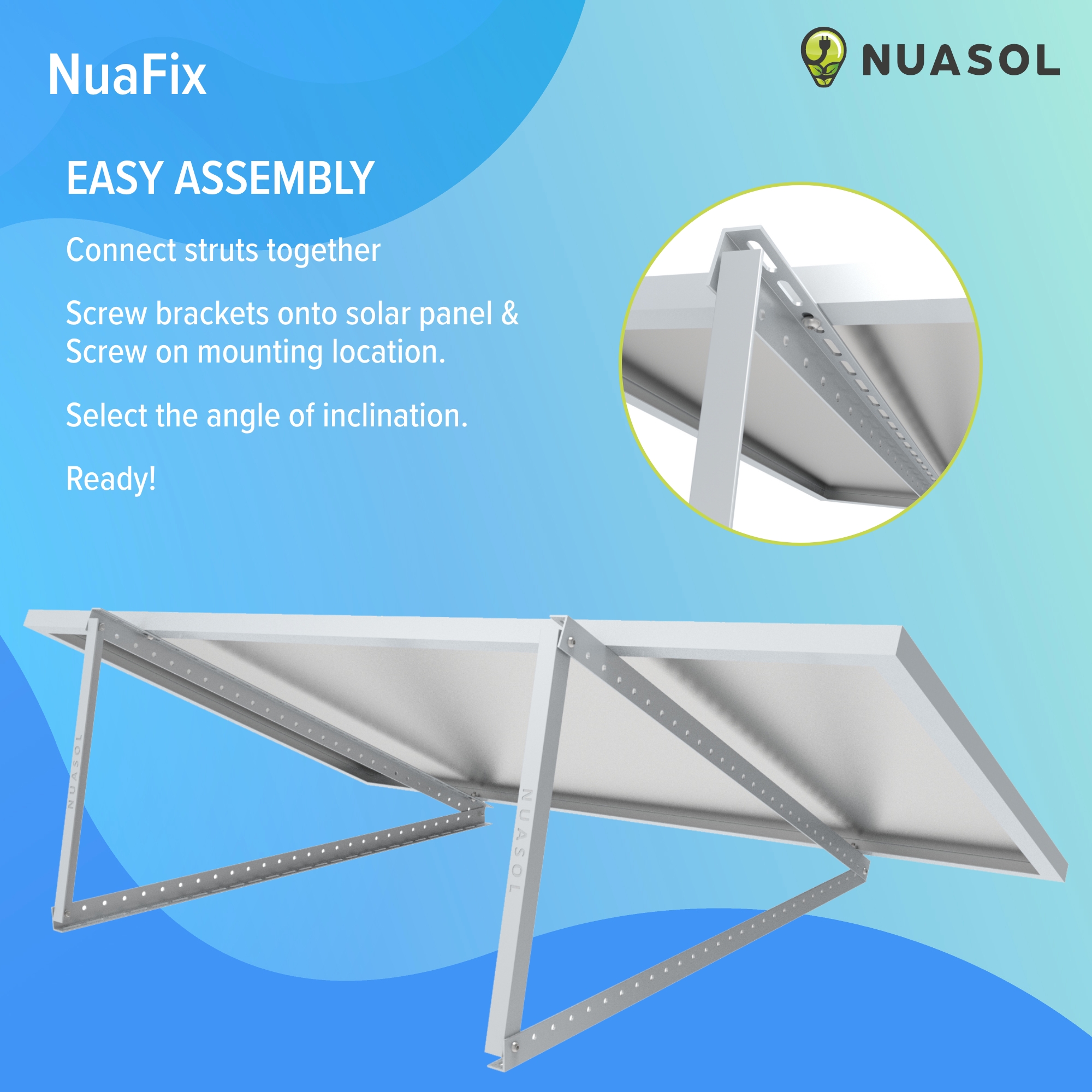 Triangular Solar Panel Mounts 0-90°
Made from AL6005-T5 aluminium, our weatherproof adjustable PV system brackets are easy to attach to the solar panel, so your solar system is ready to go in no time.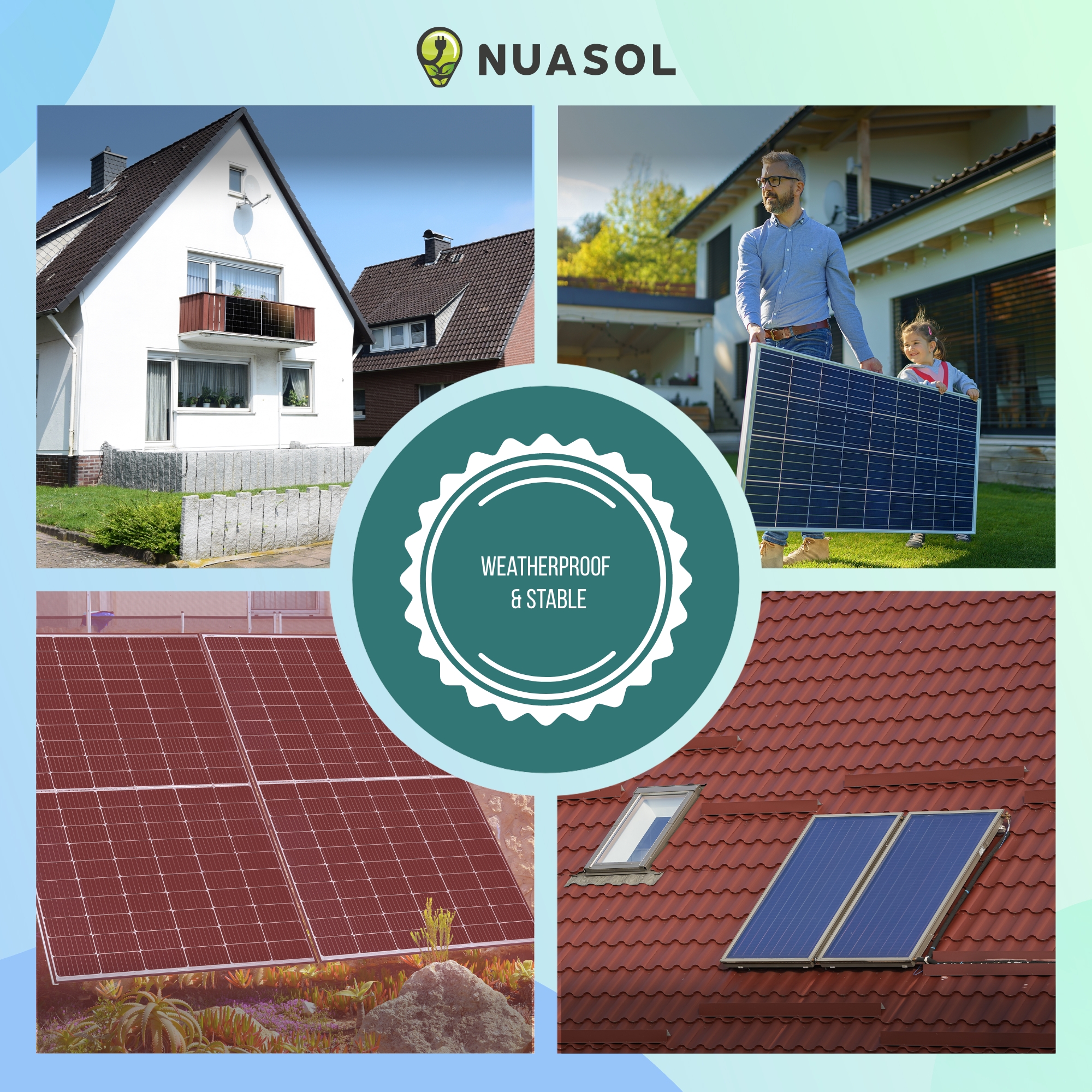 Stainless steel screws and nuts
SUS304 are already included in the delivery. Our adjustable brackets are suitable for set-ups on flat surfaces such as garages, gardens, balconies... Convenient adjustment of the tilt angle to harvest the maximum yield.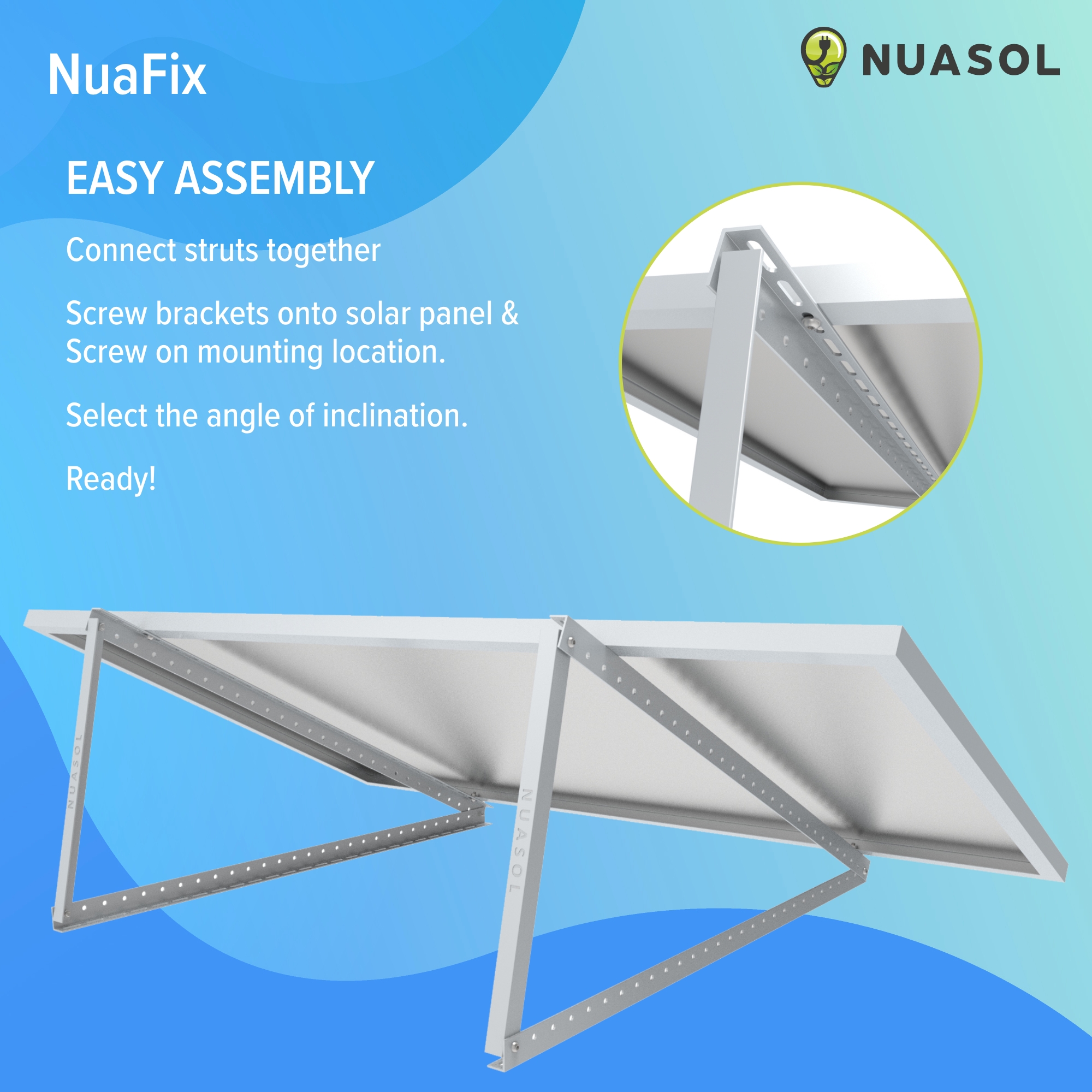 NuaFix - Flexible brackets 0-90°.
Dimensions strut (WxDxH): 28 x 42x 3 mm
Length cross brace: 525 mm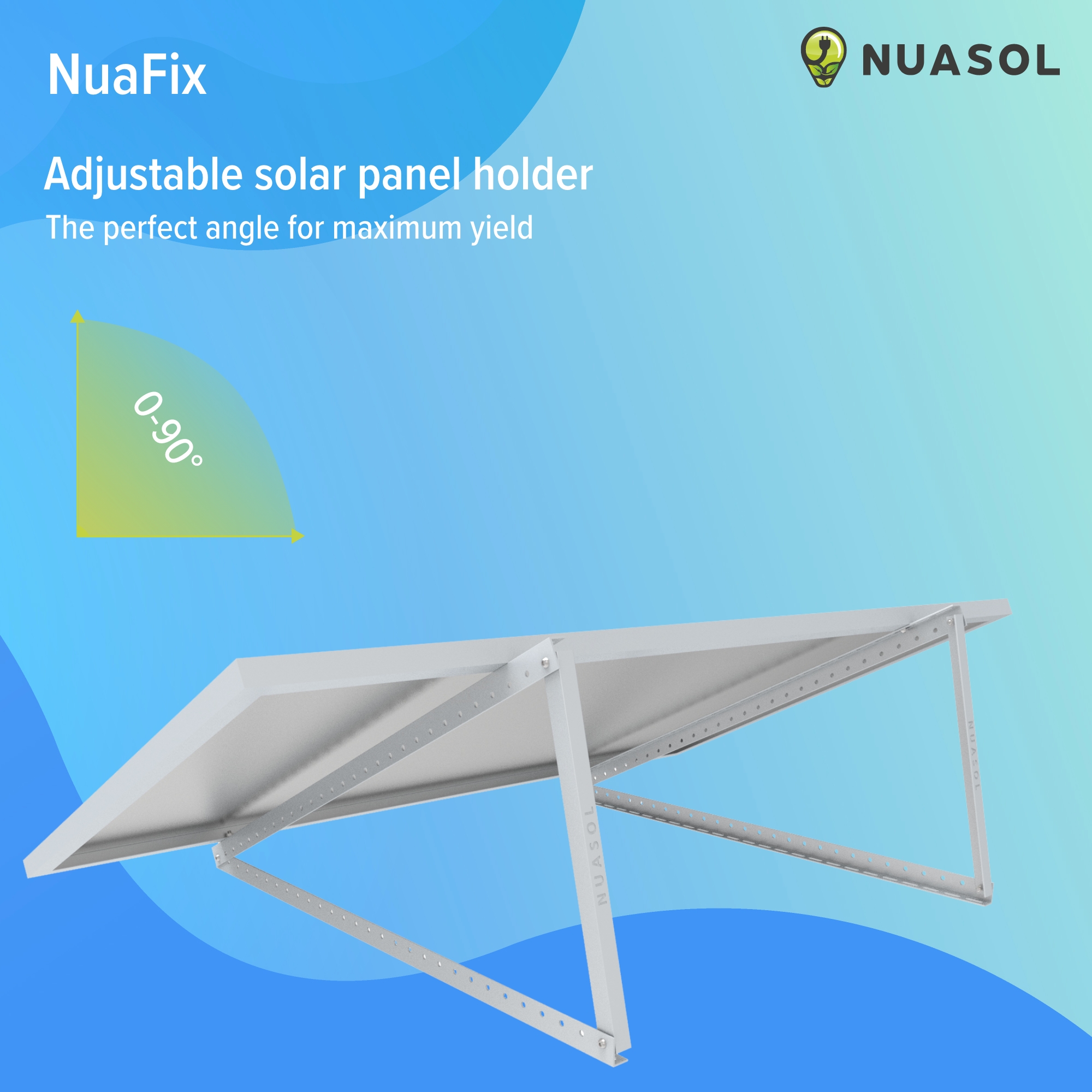 Max. Solar module width: 1180 mm
Material thickness: 3 mm
Dimensions of mounting holes: 9 mm / 36 x 9 mm
Material bracket: Aluminium AL6005-T5
Material screws & nuts: stainless steel SUS304
Suitable for: flat substrates
Angle: 0-90
Weight: 2.89 kg
Delivery Scope
8x long struts
4x short struts
2x screw set
Material screws
Stainless steel SUS304
Dimensions long pole
28 x 42x 3 mm
Hole size
9 mm / 36 x 9 mm
Important notice §12 ABS. §3 USTG
MIT DEM KAUF DIESER AUKTION VERSICHERN SIE FOLGENDE ANGABEN: DIE BEDINGUNGEN LAUT §12 ABS. § 3 USTG WERDEN ERFÜLLT:
1. ANLAGE UNTER 30 KW PEAK
2. AUF ODER IN DER NÄHE VON PRIVATWOHNUNGEN, PRIVATHÄUSERN, WOHNUNGEN SOWIE ÖFFENTLICHEN UND ANDEREN GEBÄUDEN, DIE FÜR DAS GEMEINWOHL DIENENDE TÄTIGKEITEN GENUTZT WERDEN, GARTENLAUBE, DIE AUCH ZU WOHNZWECKEN GENUTZT WIRD
3. ICH BIN PRIVATPERSON UND BETREIBER DER ANLAGE
4. KEIN GEWERBLICHER WEITERVERKAUF
5. HAFTUNG DES KUNDEN FÜR FALSCHE ANGABEN
6. ALLE ERWORBENEN TEILE WERDEN AUSSCHLIESSLICH IN DER ANLAGE VERBAUT UND SIND WESENTLICHE KOMPONENTEN FÜR DEN BETRIEB DER PV-ANLAGE. WEITERE NACHWEISE ÜBER DEN VERBAU DER ANLAGE KÖNNEN BEI BEDARF VON MIR ERBRACHT WERDEN.
Material Mounting Stand
Aluminium AL6005-T5
Suitable Substrates
flat substrates
Product Family
Solar panel bracket
The document to download could not be found.