Tool box incl. 172 pcs Red
*inc. 20AT., free delivery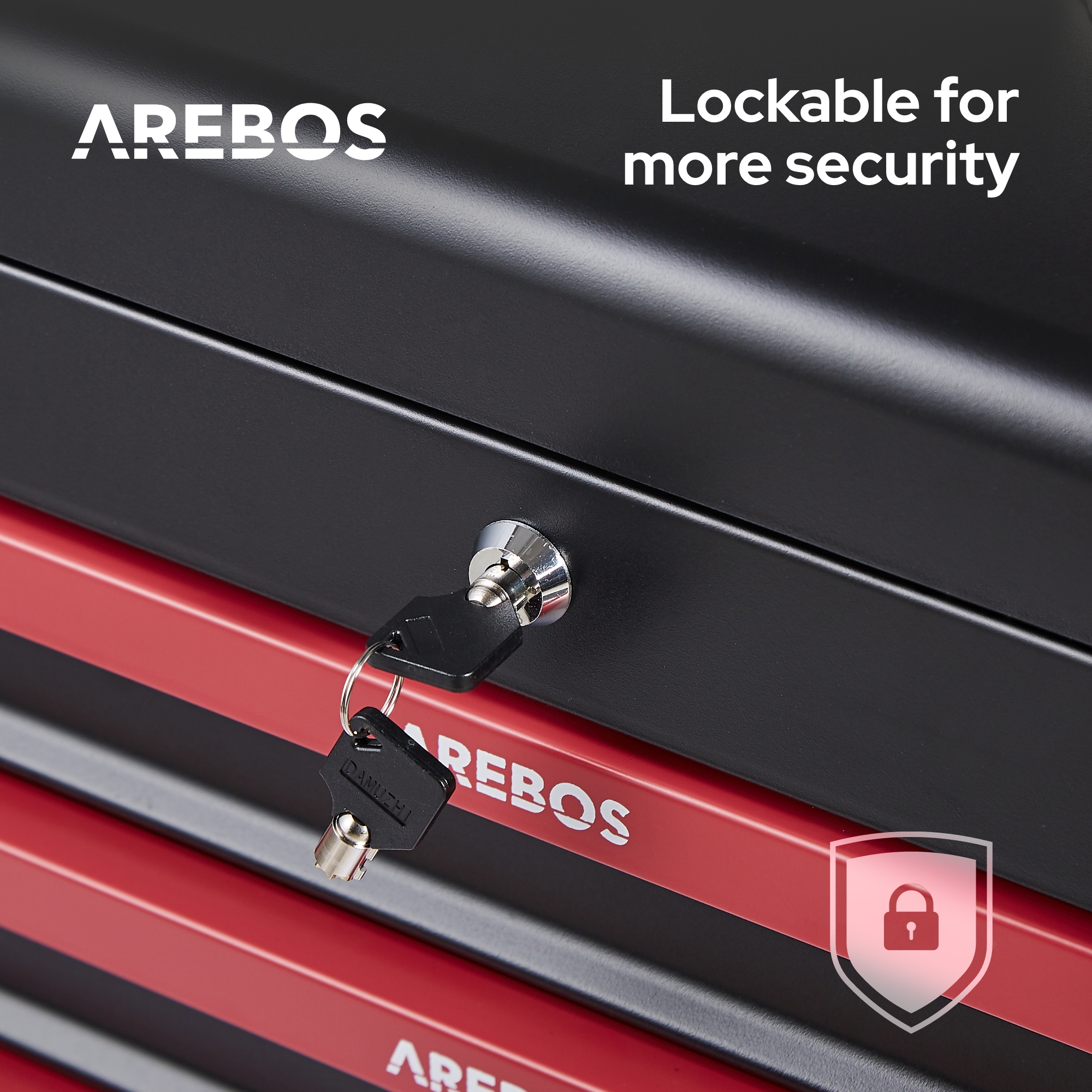 AREBOS 172-piece tool box
The AREBOS tool case contains tool sets with various tools for a wide range of applications, and should not be missing in your workshop! The compartments and the lid of this robust tool box can be locked with a central locking system, which allows for secure transport.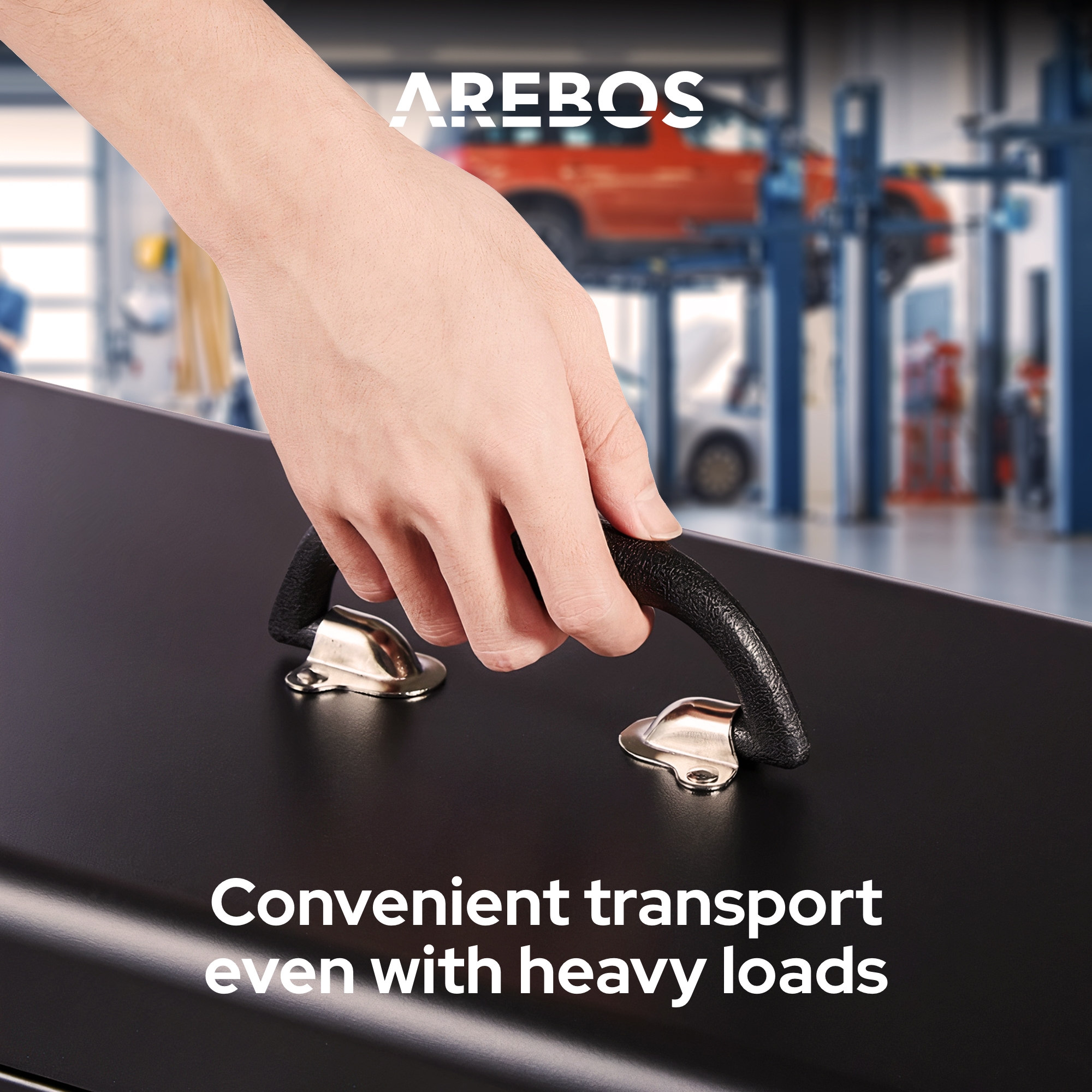 Transport made easy
The carrying handle on top or the two handles on the sides will allow you to carry the tool box and its contents comfortably to where you need to use it ‒ with all your tools within easy reach.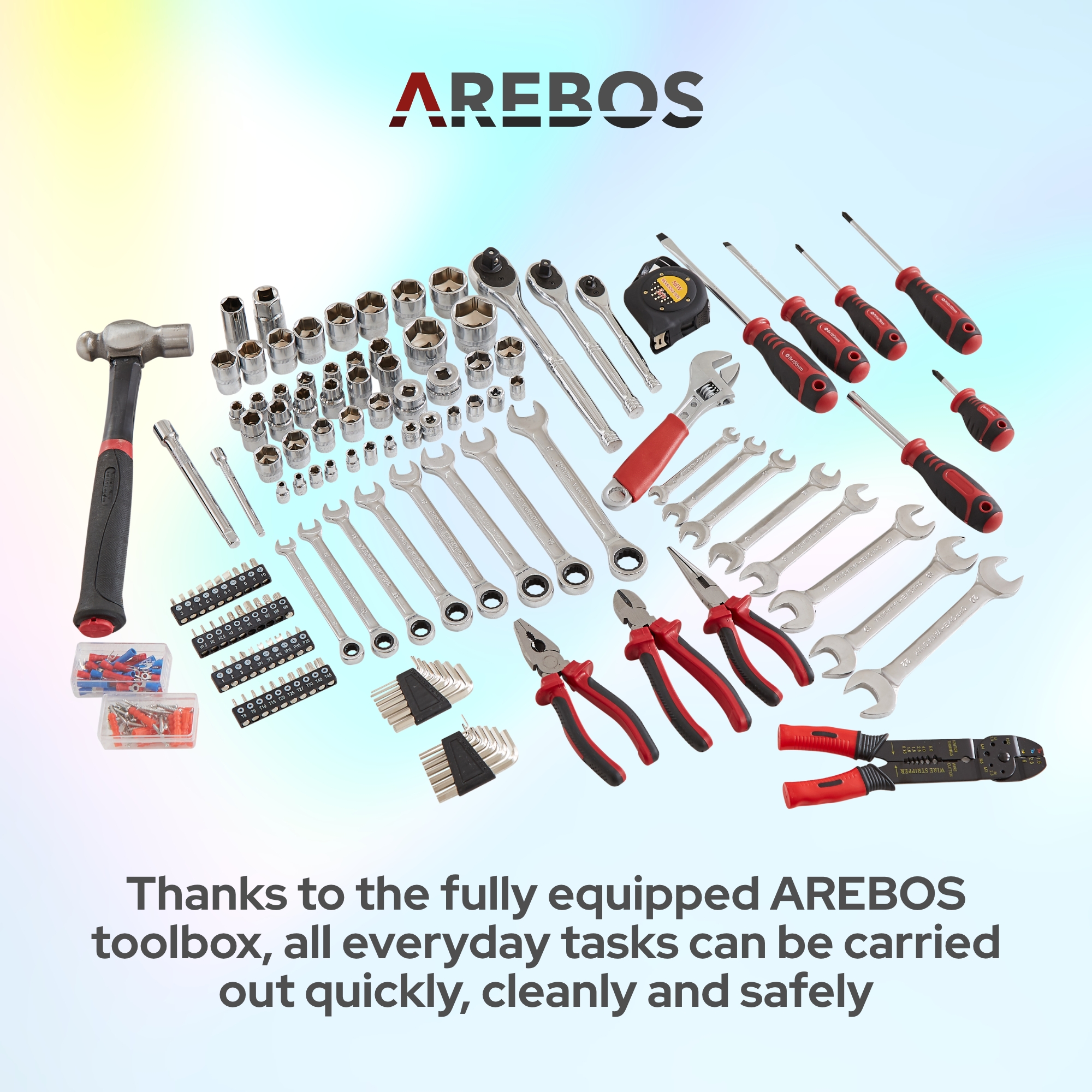 Everything is there!
This tool box will provide you with all the tools you will need for your everyday jobs, contained in 3 drawers and a lid compartment. Whatever you may need, be it hammer, screwdrivers, spanners or pliers ‒ in this tool box you will always find what you are looking for.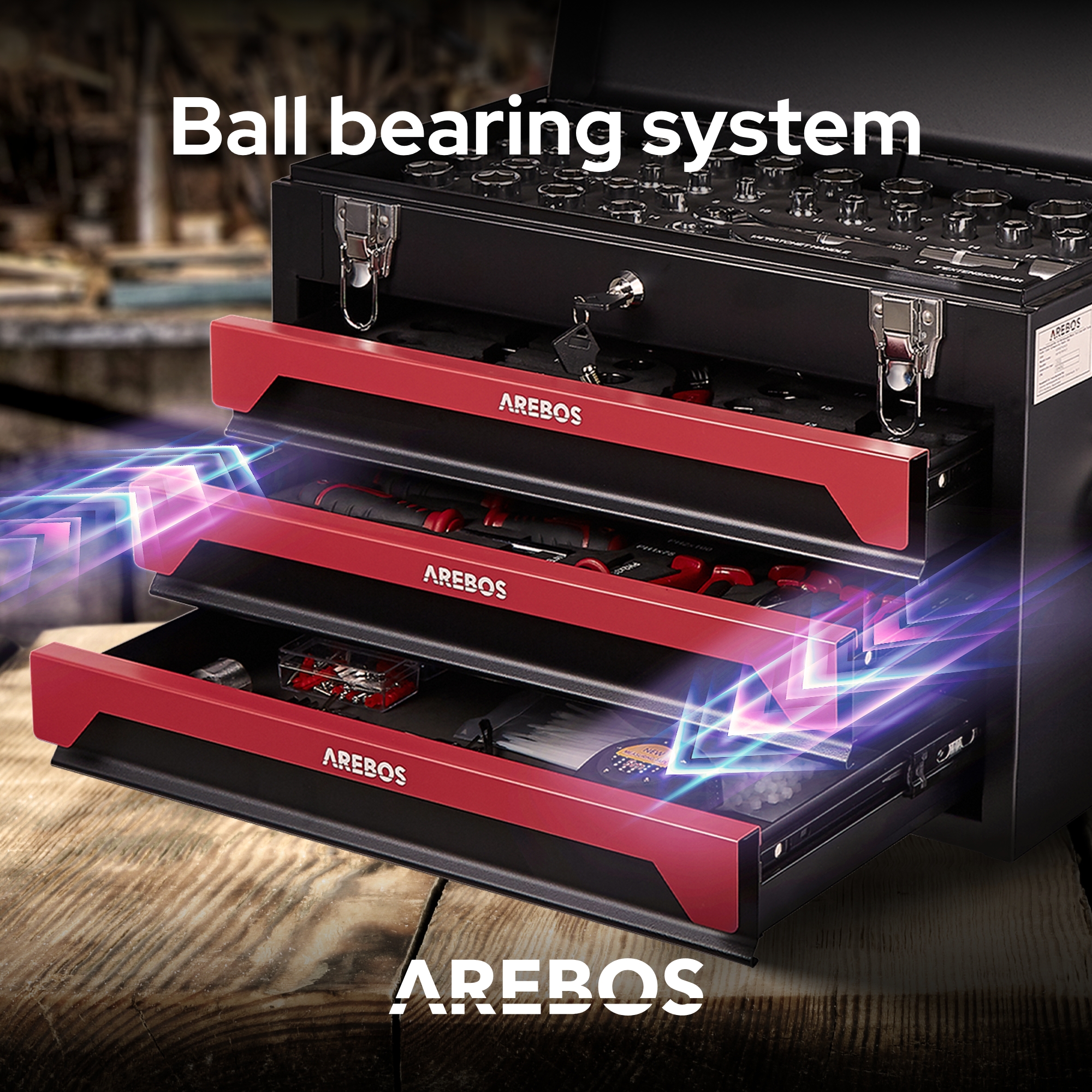 Practical & space-saving
The AREBOS workshop case not only concentrates a large number of tools in one place, but its compact design also saves room when you need to put it away. The drawers will open and close very smoothly, because they run on ball-bearings.
Details at a glance
Case height: 35.3 cm
Width of case: 50 cm
Case depth: 27 cm
Other interesting models
Besides the 172 piece tool case AREBOS also offers a 600 piece, 300 piece and a 1200 piece model of the tool case. Discover more models now!
Age Recommendation
For adults
Delivery Scope
1x tool box incl. 172 parts
1x instruction manual
Tool Set Includes
Upper storage box:
17x 1/2" sockets: 10-11-12-13-14-15-16-17-18-19-21-22-23-24-27-30-32 m
15x 3/8" sockets: 8-9-10-11-12-13-14-15-16-17-18-19-21-22-24 m
13x 1/4" sockets: 4-4.5-5-5.5-6-7-8-9-10-11-12-13-14 mm
3x Ratchet Fine toothed with 72 teeth: 1/2", 3/8", 1/4"
2x extension 3/8* 3"&6
2x extension 1/4* 2"&4

1. drawer:
8x spanners open/closed 8-10-11-12-13-14-15-17 mm
8x spanners open/open: 6*7, 8*9, 10*11, 12*13, 14*15, 16*17, 18*19, 20*22 mm
1x Adjustable open-ended pliers 8

2nd drawer:
3x Pliers:6" combination pliers,6 " needle nose pliers,6 " side cutters.
5x Screwdrivers: PH1*75, PH2*100, PH2*38, T8*150, T6*100 40x Bits
3. drawer:
1x hammer
1x tape measure 5 m
400x cable ties
100x nails
1x bit holder
12x bits cross recess (PH0, 2x PH1, 2x PH2, PH3, PZ0, 2x PZ1, 2x PZ2, PZ3)
6x Torx bits (T10, T15, T20, T25, T27, T30)
6x bits slot (3, 4, 5, 6, 7)
6x hexagon socket bits (H2.5, H3, H4, 2x H5, H6)

Additional Dimensions
Size of the upper storage box: 48.3 x 26 x 6.5 cm
Size of drawer: 43 x 23.3 x 6.5 cm
Max. Load Capacity per Drawer
15 kg
Material
Powder-coated steel
Material Case
Powder-coated steel
Type of Handles
Bow Handle
The document to download could not be found.