6-piece torque wrench set incl. case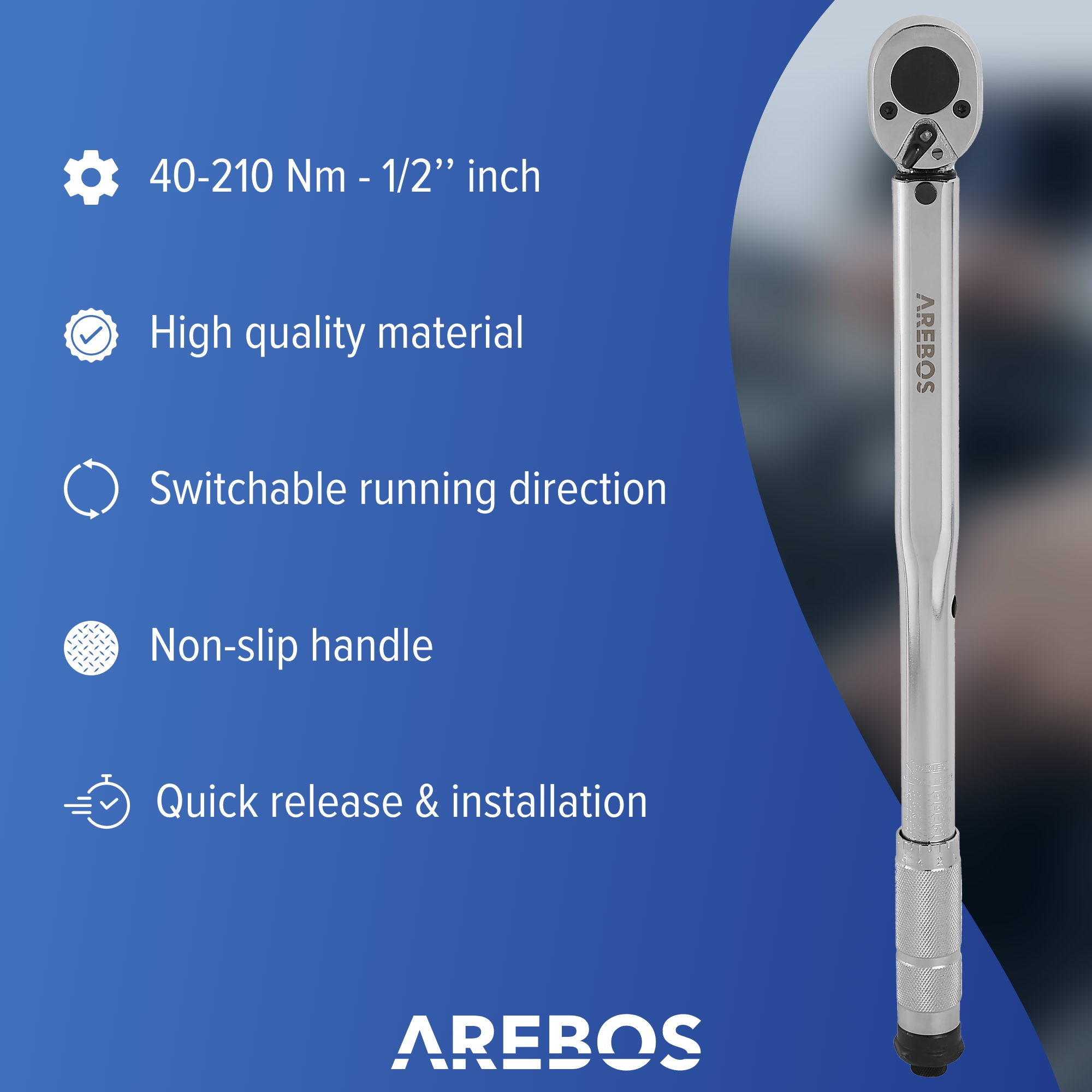 The ratchet tool and attachments (17, 19 & 21 mm) as well as the extension (125 mm), which form the heart of this set, are made of robust chrome vanadium steel. These high quality materials are designed to withstand prolonged use, ensuring many years of use.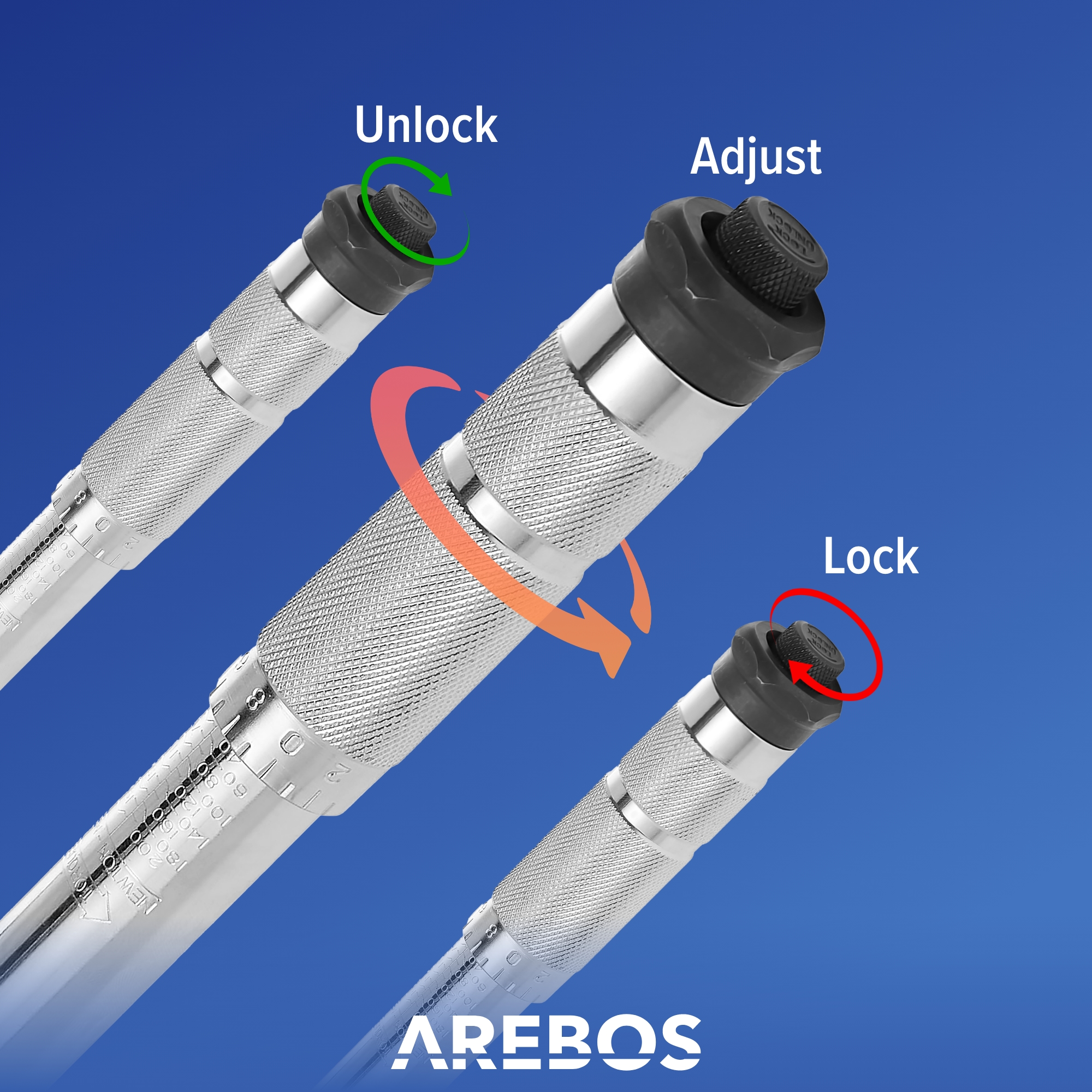 To prevent accidental changes, the 1/2 torque spanner has a lock that is activated by screwing it shut. The locking screw ensures that once set, the torque remains constant during use, giving accurate and repeatable results.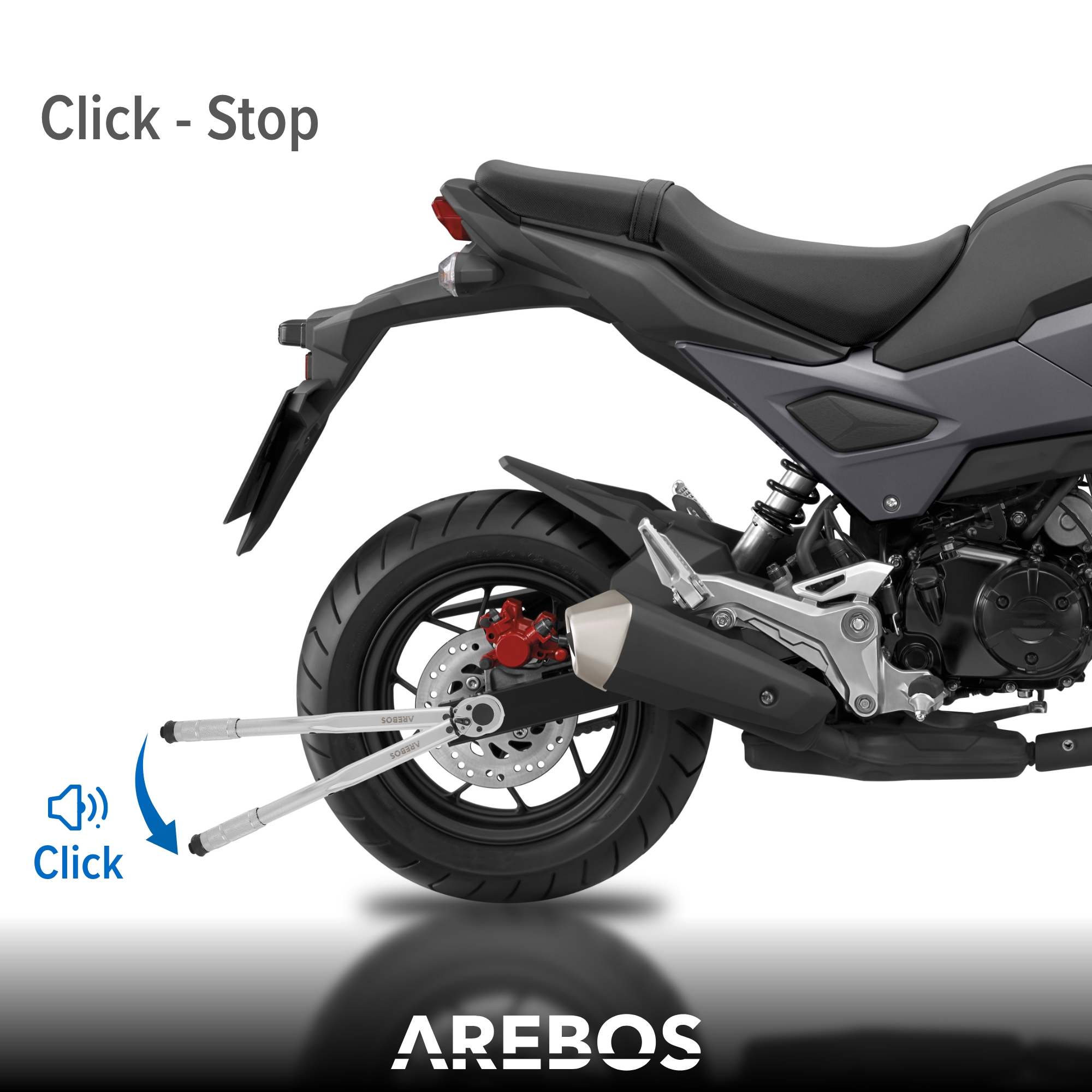 Automatic release with click signal
When the set torque value is reached, the reversible ratchet makes a clicking sound and vibrates to remind you to stop applying force. This contributes to safety and accuracy as the user knows exactly when the optimum tightening point has been reached. For efficient results without unnecessary effort, this ratchet box is the ideal choice.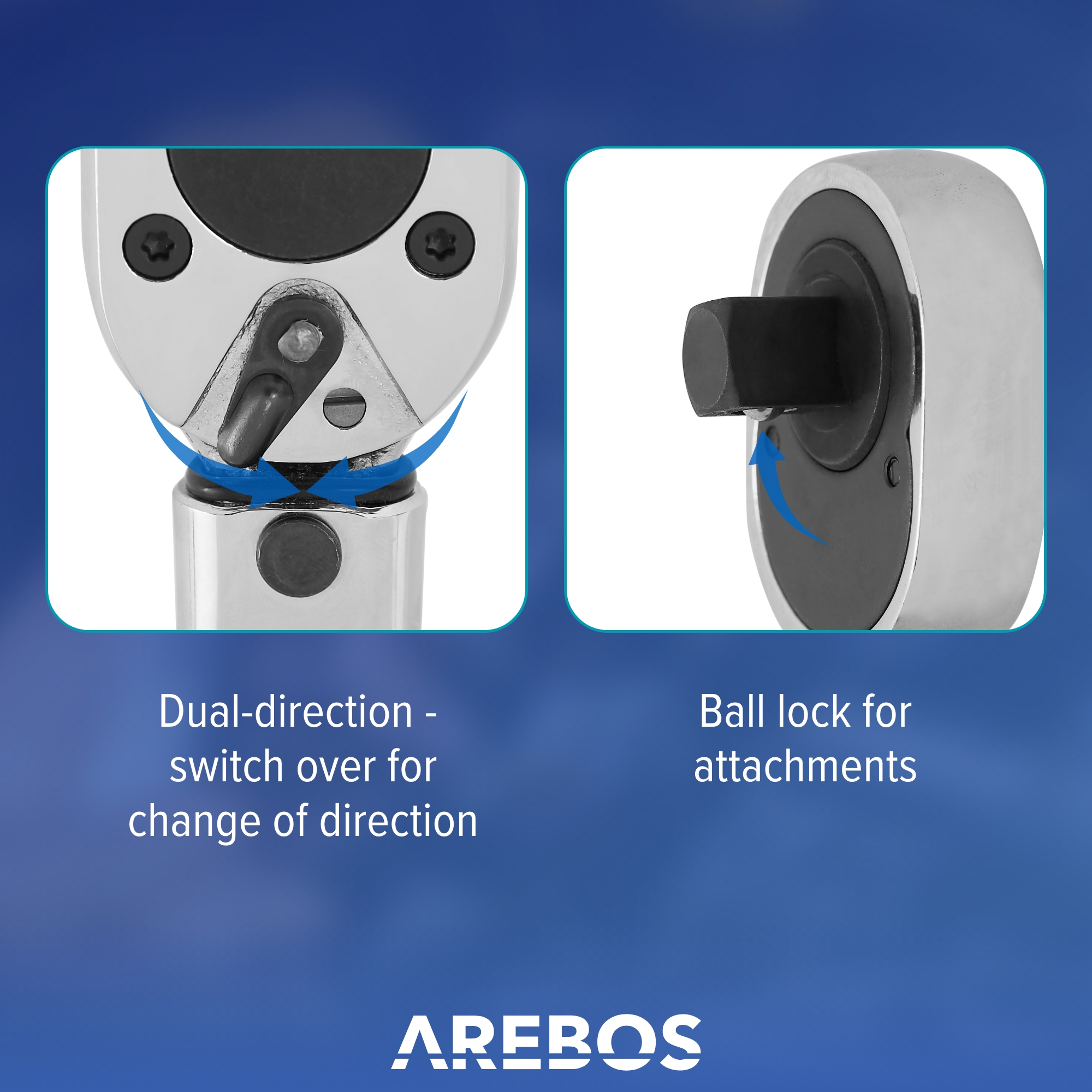 Right & left-hand rotation
The switch lever allows you to switch effortlessly between clockwise and anti-clockwise rotation, which makes loosening and tightening screws equally easy. The switch lever allows you to easily switch the ratchet head from left-hand to right-hand rotation. Ideal for bicycles, motorbikes, automobiles, appliance maintenance and professional applications as well as for demanding DIY projects.
Precise torque adjustment
The unique combination of dual reading scales in Nm and M-Kgs and an analogue display allows precise setting of the required torque with a tolerance of +/- 4 %. This ensures that every bolt or nut is tightened exactly to specification. With a weight of only 1.6 kg and a length of 47 cm, it is light and handy.
The transport box of this tool set is not only sturdy, but also practical and with a tidy system. It not only protects your tools, but also makes transport easier. Included are 3 sockets in the sizes 17, 19 and 21 mm with a practical extension, which you can use for your car, bicycle or for machines. Thanks to the high-quality assembly gloves included, you can work safely.
The torque spanner has a quick-release button on the head that allows easy installation and removal of the socket. In addition, the ball lock for the attachments ensures a stable connection between the tool and the attachments.
The desired torque value is set safely and quickly by turning the non-slip handle and fixing the locking screw. The anti-slip structure, guarantees comfortable handling and a secure grip, ensuring comfortable and safe handling, even during demanding tasks.
Delivery Scope
1x Torque wrench

3x Sockets

1x Extension

1x Gloves

1x Storage box

1x Instruction manual

Relevance of Dangerous Goods
No
Special Features
Set contains 3 sockets, extension & gloves
Attachments made of durable chrome vanadium steel
Automatic release with acoustic signal
Double scale in Nm and M-Kgs + analogue display for setting the required torque
Rotating adjustment handle with non-slip structure
Switch lever for clockwise & anti-clockwise rotation
Adjustment range 40 - 210 Nm, triggering accuracy: +/- 4%
Locking by screwing shut after setting the torque
Ball lock for attachments
Robust transport box
Tool Set Includes
6 pcs. set
1x torque spanner 1/2" inch
1x bit 17 mm
1x bit 19 mm
1x bit 21 mm
1x Extension 125 mm
1x Gloves
Dimensions Case
49 x 8 x 7 cm
Material
Chrom-Vanadium-Stahl 50BV30
Material Bits
Chrome Vanadium (50BV30)
Material Key
Chrome Vanadium (50BV30)
Model Name
AR-HE-DS40-210Nm
Adjustment range
40 - 210 Nm
Dimensions extension
125 mm
Dimensions sockets
17, 19 & 21 mm
Dimensions torque spanner
47 x 11 x 6 cm
Material gloves
Nylon, Latex
Number of ratchet teeth
45
Running Direction
Right and left rotation
Weight torque spanner
1,6 kg
Product Family
Workshop Set
The document to download could not be found.