Air compressor 1200W - 6l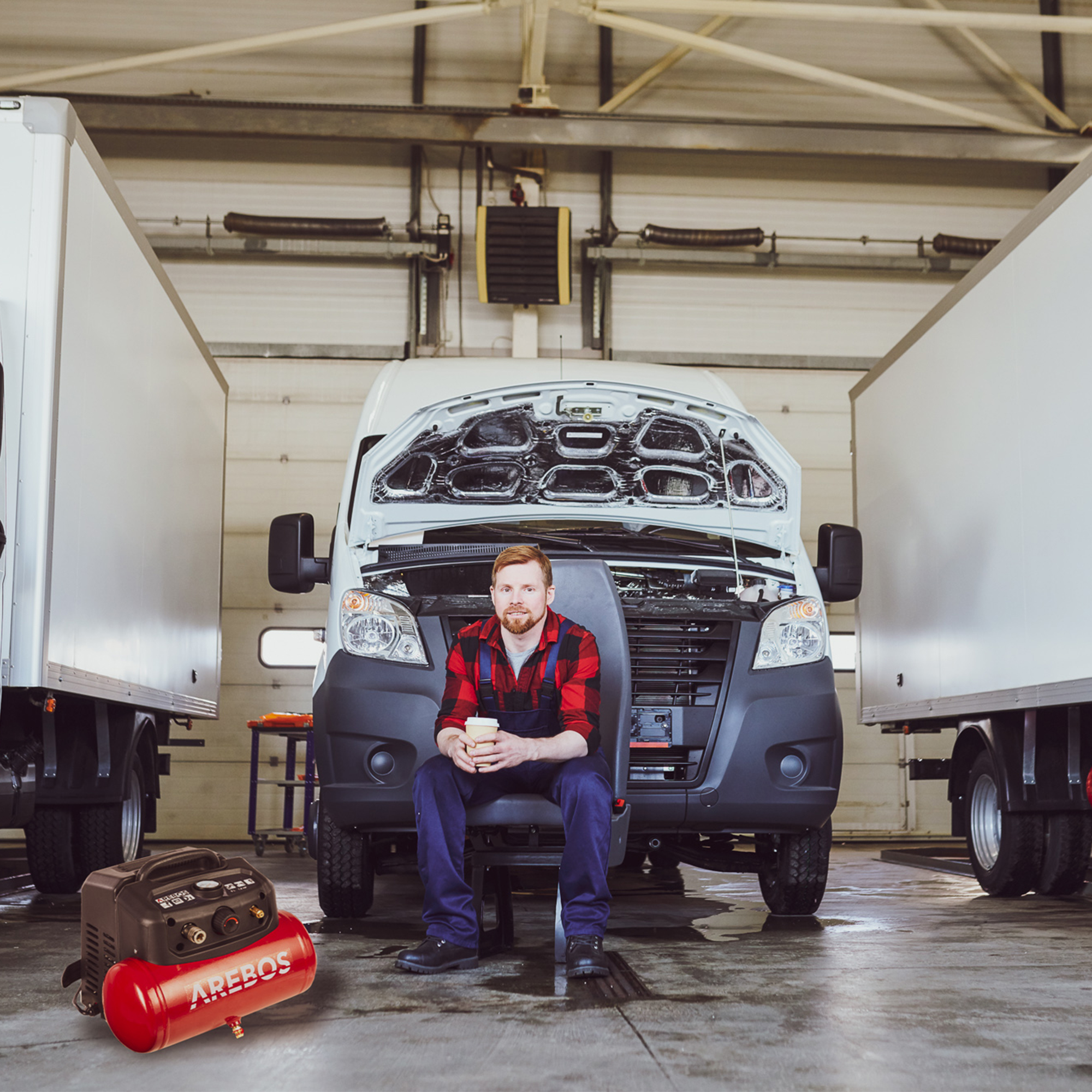 ADJUSTABLE OPERATING PRESSURE
The built-in pressure reducer ensures that the AREBOS air compressor does not continuously run with maximum power but at the optimum range. The operating pressure gets adjusted depending on the particular requirements in order to ensure secure and long-term operation.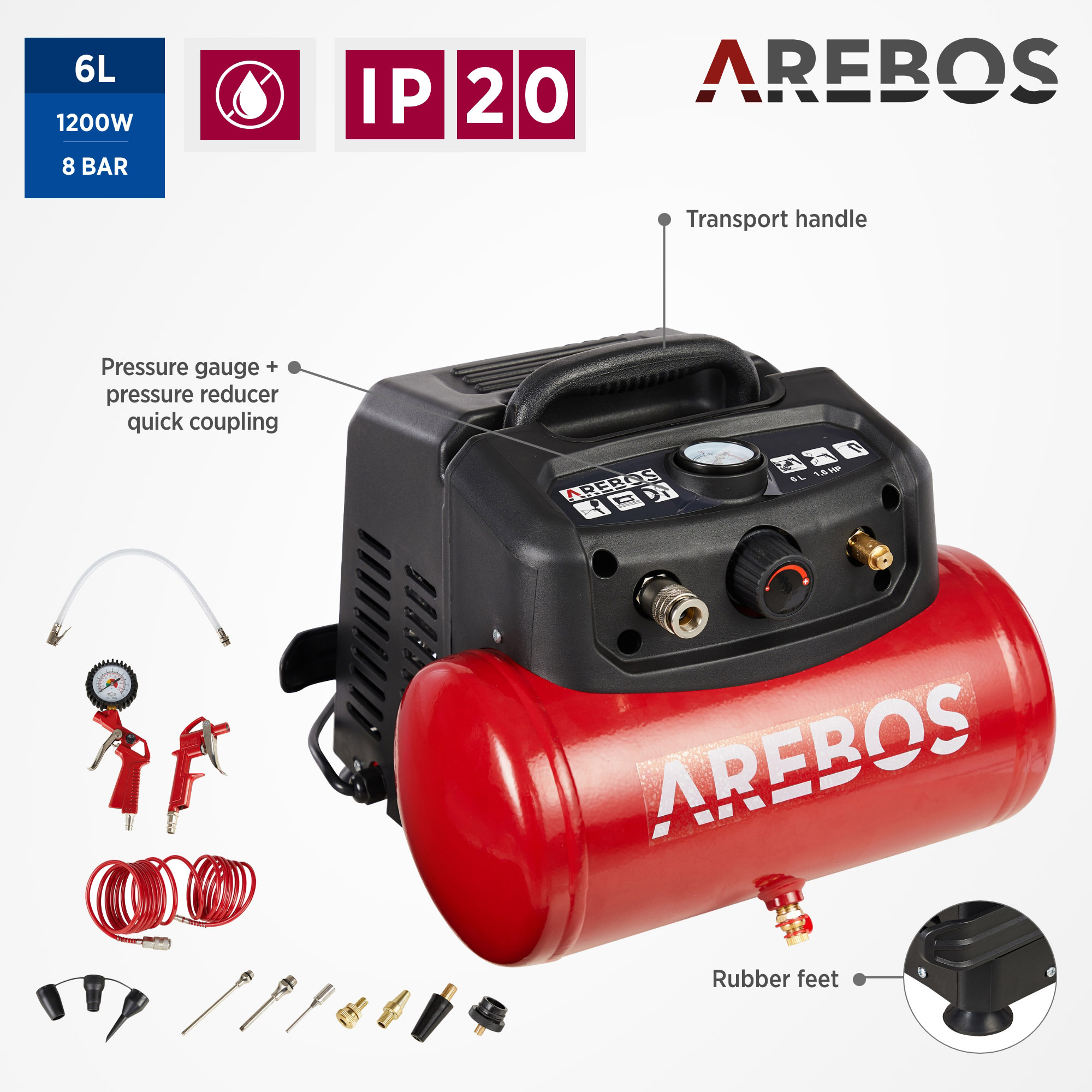 MOBILE USE
The AREBOS air compressor features a useful, rubberized handle for convenient and easy transport. The vibration-resistant rubber feet ensure non-slip installation and secure working.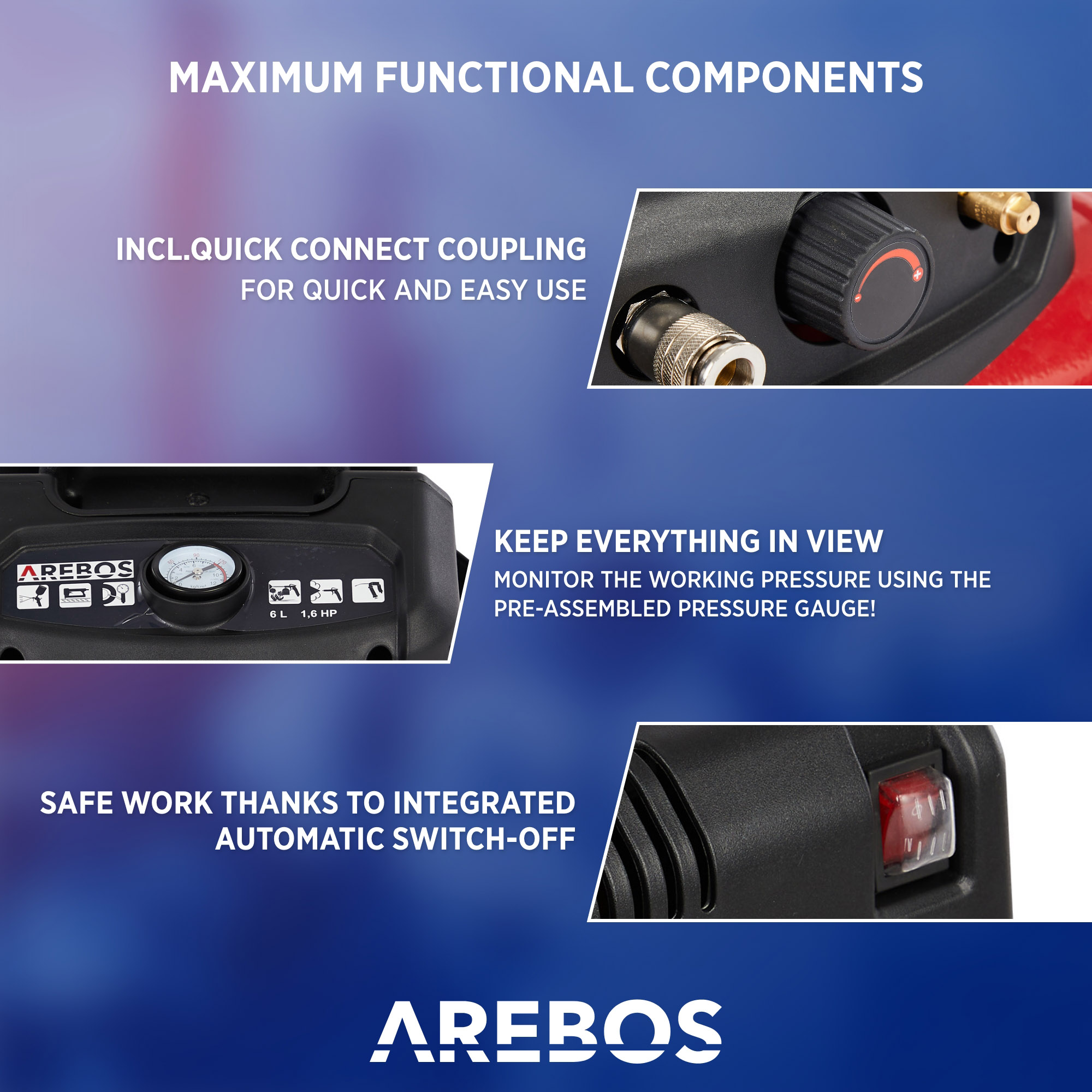 QUICK & EASY CONNECTION
Our models are equipped with one quick coupling that facilitates convenient operation and quick replacement of tools. The manometer allows you to monitor the operating pressure at all times.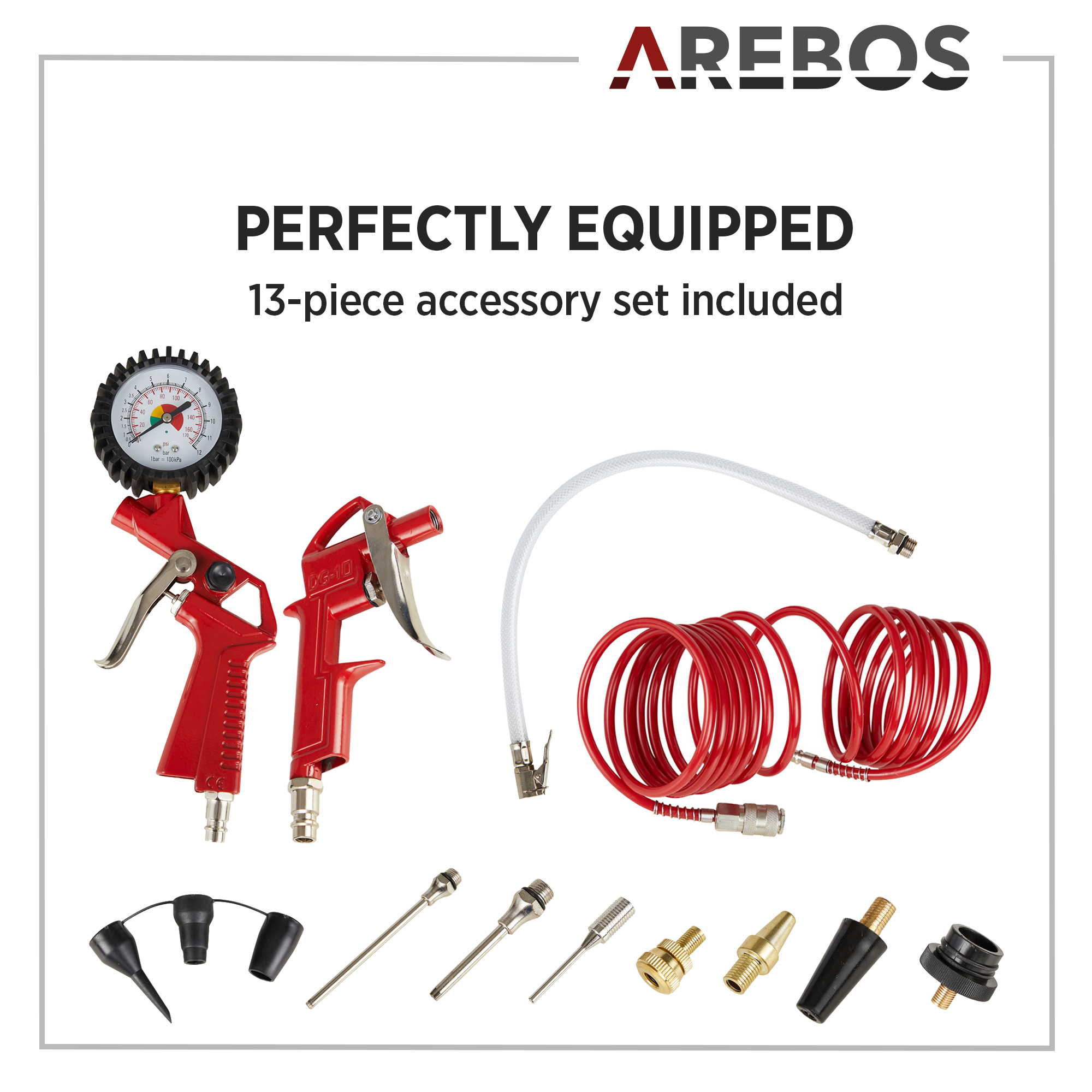 EQUIPPED FOR ANY APPLICATION
The included compressor set of 13 pieces allows you to react flexibly to any task. Whether you use the compressor for inflating tires or for use with impact wrenches or other gadgets, the possibilities are endless with this compressor from AREBOS.
MAXIMUM PRESSURE OF 8 BAR
With a power of 1200 W, an Motor speed of 3450 rpm and a boiler capacity of 6 liters this AREBOS air compressor will not conk out that quick. Despite the maximum pressure of 8 bar, the compressor features a pleasant operating noise.
AREBOS COMPRESSORS
Based on our many years of experience and a constant exchange with our customers, we have set ourselves the goal of continuously improving our products on the basis of the customer feedback obtained, and thus to achieve the maximum customer benefit.
Age Recommendation
For adults
Delivery Scope
1x compressor
1x tire inflation gauge with manometer and tube
1x blowgun
1x tube valve connector
3x nozzles
7x adapters plus adapter attachment
1x user manual
Relevance of Dangerous Goods
No
Equipment
The included compressor set consists of 13 pieces and is equipped perfectly for any kind of application: 1x tire inflator gauge – with rubberized manometer, bar/psi measuring scale blow valve, 1x blow gun – for cleaning and drying surfaces + 11 different accessories (hose, jets, etc.) and 5 m spiral hose.
Special Features
Suitable for use in susceptible production areas
Since there is no generating of oil-infused compressed air, the compressor can be used in the fields of producing foodstuff and medical and sanitary products, in laboratories, in the research sector, as well as in the field of processing of paints and varnishes.
Model Name
AR-HE-LK120006OF
Type of Power Plug
UK PLUG TYP G
Type of Power Supply
Mains Connection
The document to download could not be found.