Solar Shower 35L Black & Floor Element Anthracite
*inc. 20AT., free delivery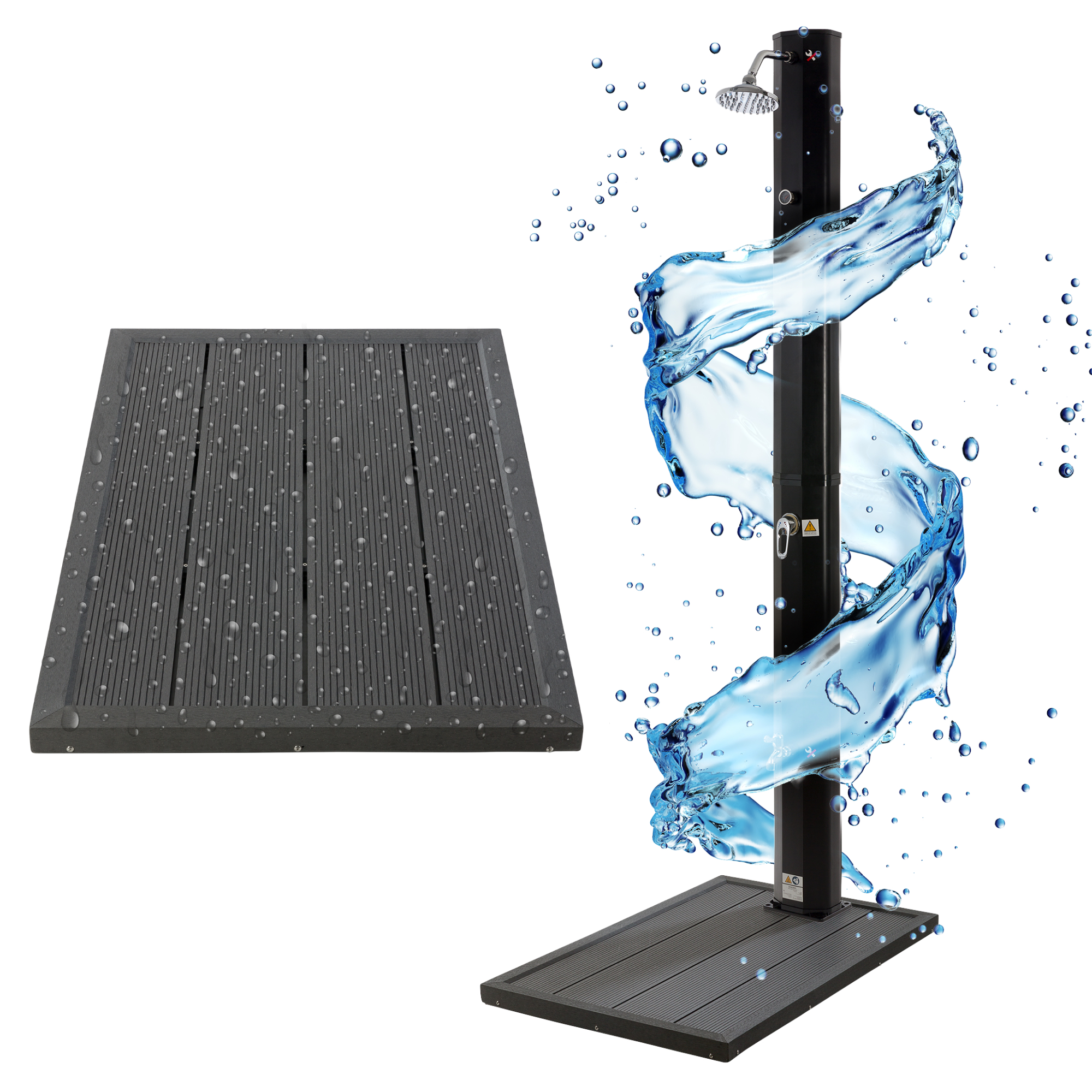 Beautiful & elegant
The AREBOS solar shower & floor element set is quick and easy to assemble in your garden or patio. Due to its elegant design, this jumpsuit is a real eye-catcher.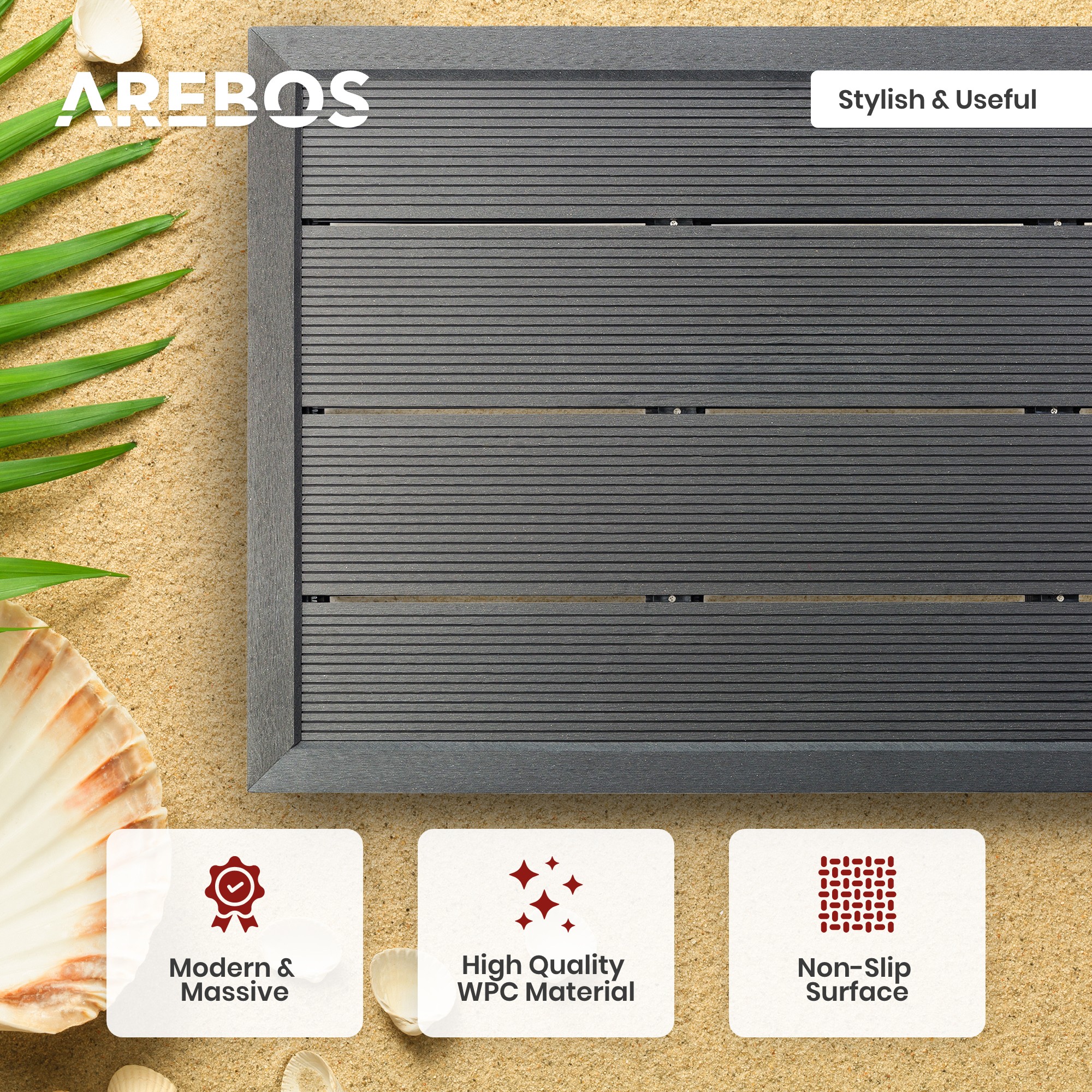 Quality meets design
The base plate is made of high quality WPC material and is therefore protected from the effects of weathering and UV rays. The non-slip surface guarantees safe showering pleasure.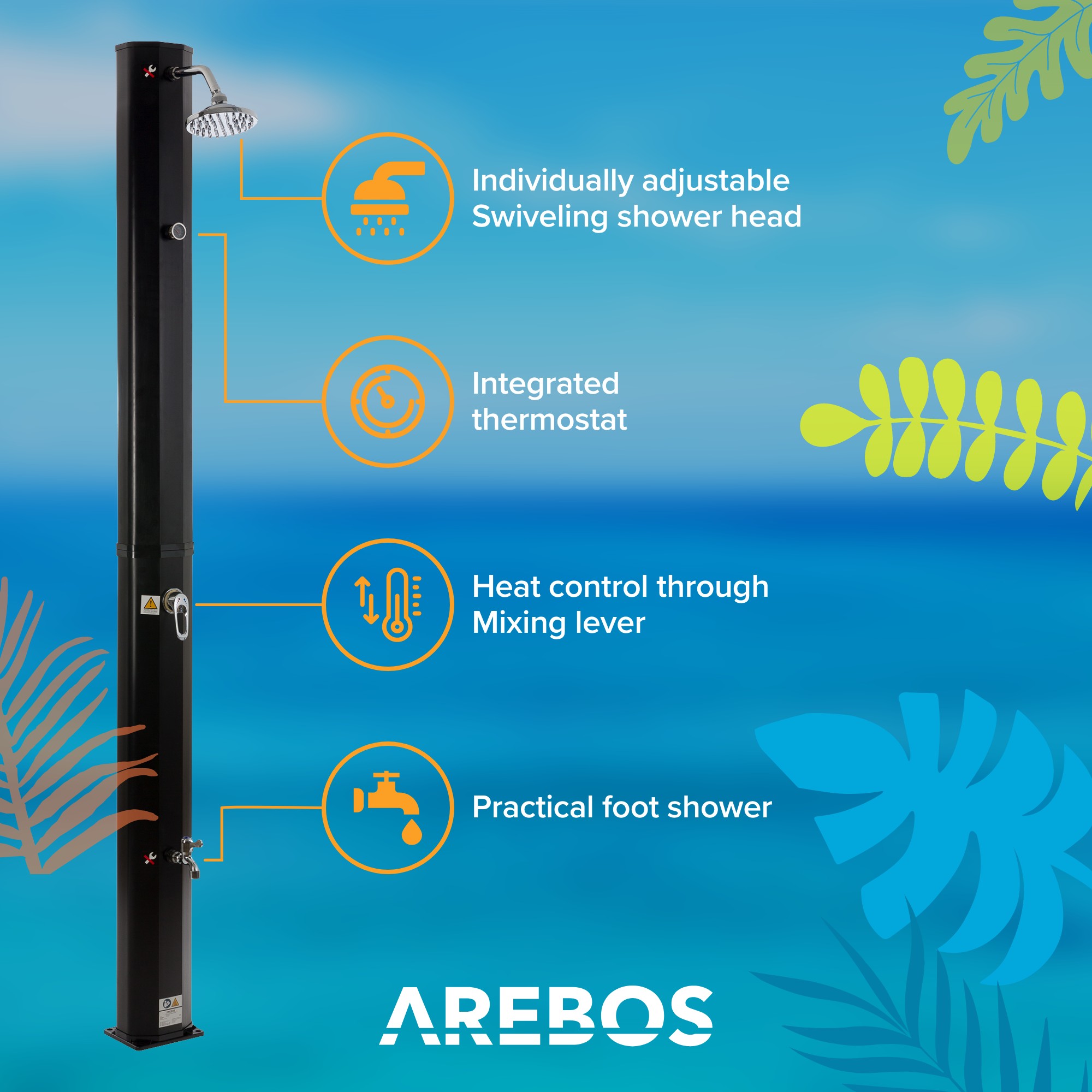 More is not possible
In addition to the tilting shower head, our solar showers have a built-in thermometer from which you can read the current water temperature. You can adjust the water temperature according to your needs using the mixer lever. It also has a handy foot shower for cooling off briefly or filling a watering can.

One step ahead
AREBOS solar showers can be easily and quickly connected to a water hose using a quick connector.
Our showers heat through their body, which very efficiently uses the sun's rays to heat the shower water. In this way, you use a natural source of energy and thus protect the environment.

Snap-in technology for easy handling
The snap-in technology makes installing and deinstalling the solar shower very easy.
Stack the two parts of the solar shower on top of each other and turn the upper part until it locks into place. DONE!

Flexible use
The shower can be used in gardens, patios, swimming pools and even RV trips, etc. Take advantage of the opportunity to cool off whenever you like and stay cool through the summer.

Reduces the amount if dirt
Due to the finely grooved structure of the floor element, you can significantly reduce the amount of dirt from grass, leaves, sand or soil entering your pool.

Non-slip
8 anti-slip pads on the underside of the element give the floor element a strong and stable hold.

Delivery Scope
1x solar shower and cover
1x floor element for solar shower / pool
1x mounting material
1x instruction manual

Relevance of Dangerous Goods
No
Equipment
thermometer
foot shower
snap in
cover
floor element
quick connect coupling
adjustable shower head

Set Includes
Solar Shower 35l black and floor element anthracite
Special Features
thermometer
foot shower
snap in
cover
floor element
quick connect coupling
adjustable shower head
Adjustable Water Temperature
Yes
Shower Head Diameter
15 cm
Shower Head Dimensions
15 cm
Max. Water Temperature
60 °C
Product Family
Solar Shower
The document to download could not be found.