Suitcase truck box - Aluminum
*inc. 20AT., free delivery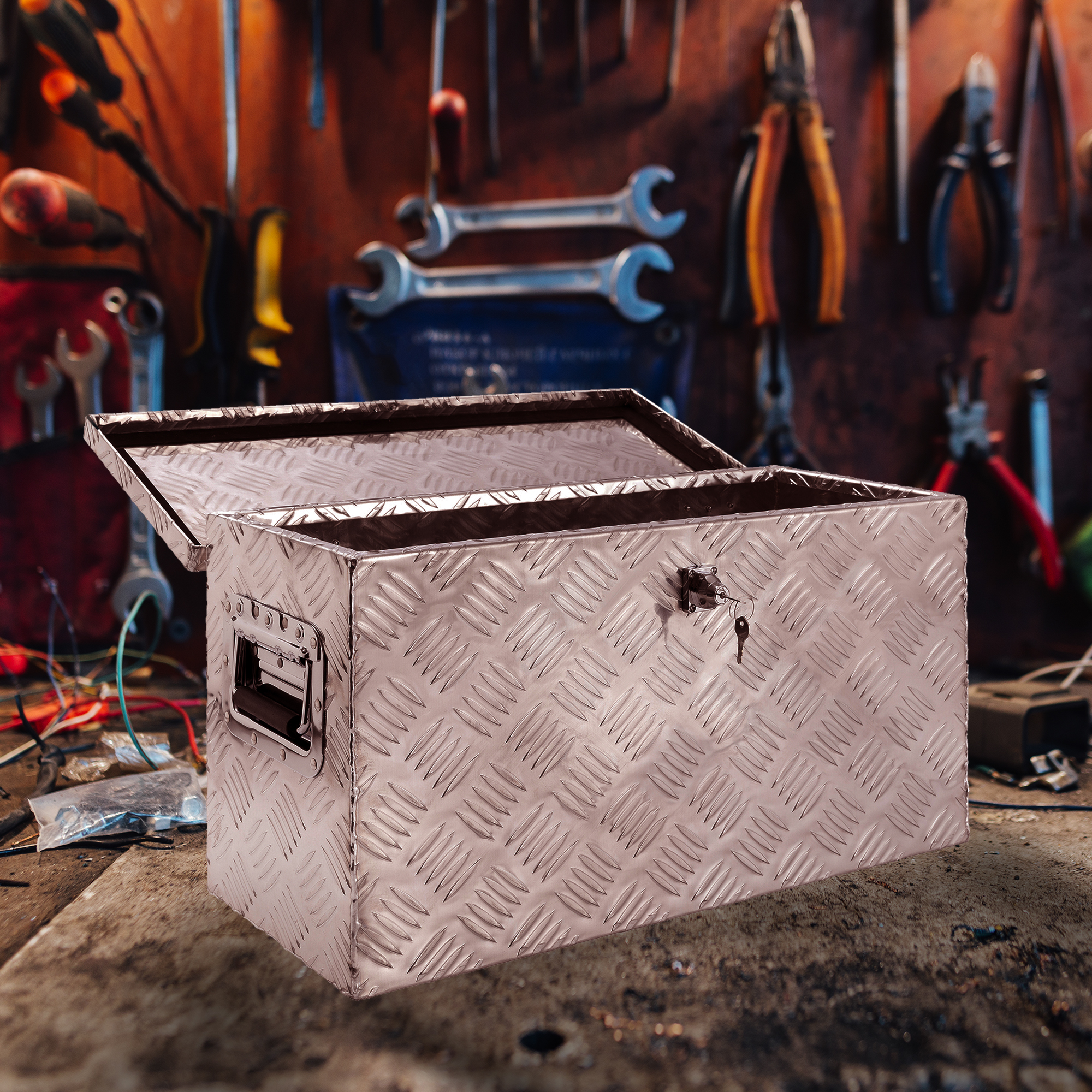 ROBUST UNIVERSAL STORAGE BOX
The aluminium case is characterised by its lightweight construction and corrosion resistance and is easy to clean. The tool box can also be used for mounting on the loading area of a transport vehicle or pick-up truck. The transport case has a capacity of approx. 40 liters.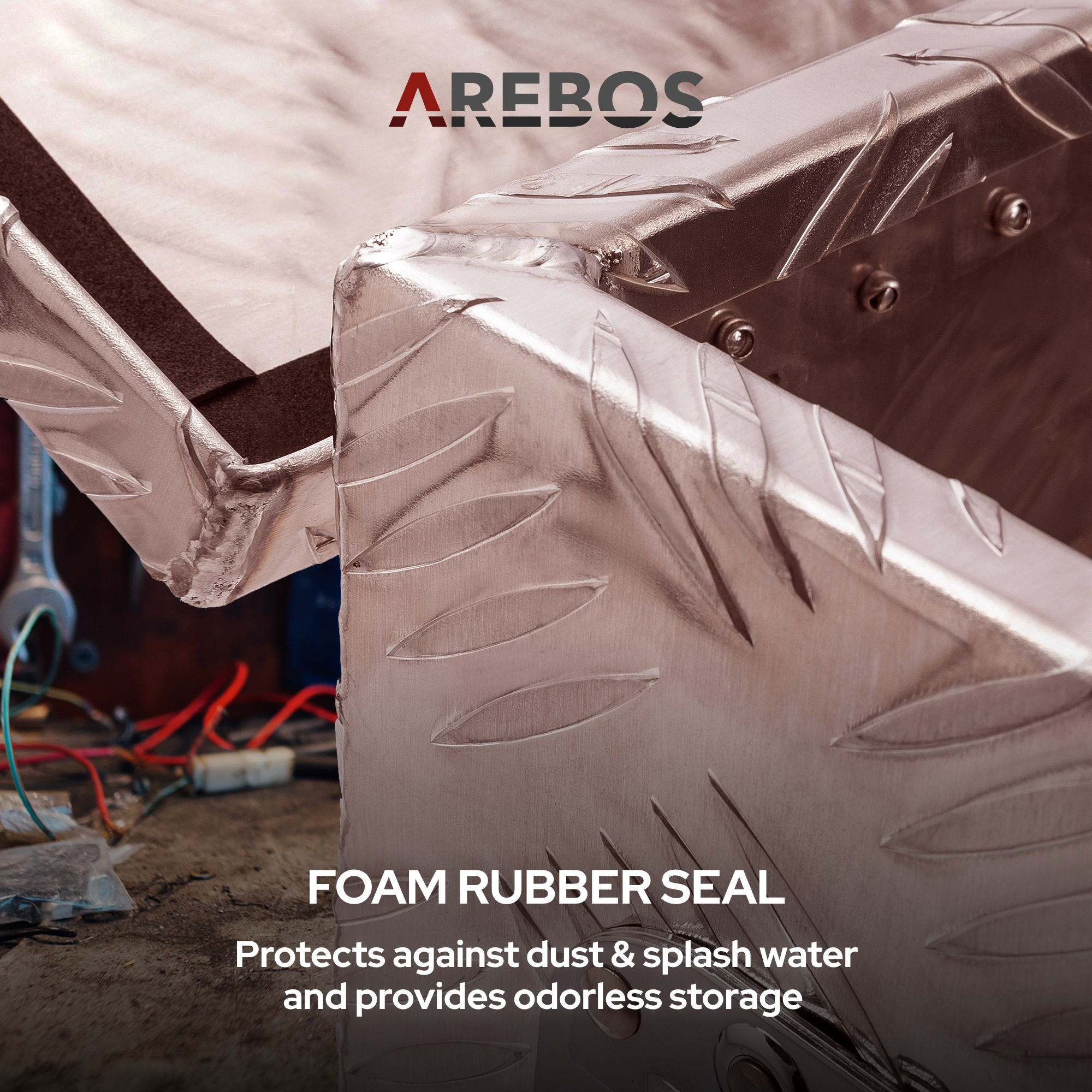 BEST IN QUALITY
The AREBOS tool box is made of aluminium, which gives it a special robustness and makes it rustproof and hard-wearing. The checker plate used provides additional grip and strength. Integrated rubber seal against penetrating dust and splash water. Odourless storage.

STABLE LOCKING MECHANISM 
The toolbox is lockable, which prevents direct unauthorised access. The delivery scope includes two keys. By locking your toolbox you ensure the security and confidentiality of its contents.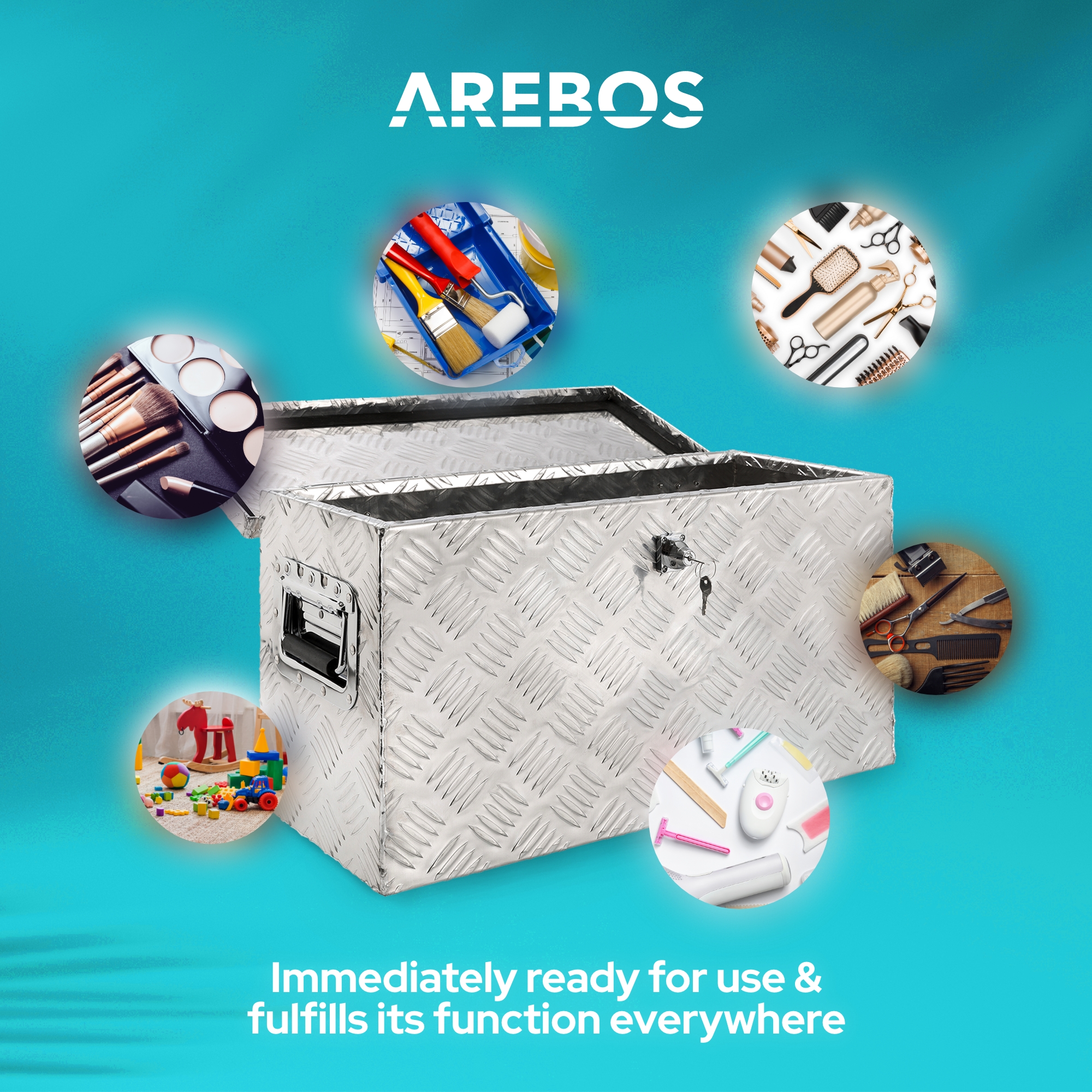 FLEXIBLE ‒ SUITS MULTIPLE PURPOSES
From model railways to power tools: this practical carrying case comes in handy for every conceivable application and safely protects the contents against any damage. For safe transport and reliable, weather-protected storage.

SELF-FOLDING HANDLES
The rubberized carrying handles on the left and right sides are particularly practical for ergonomic handling, high loading capacity and convenient transport. The handles are completely recessed when not in use. 

OPTIMAL PROTECTION
All corners on the transport box have been carefully welded and smoothed off, so that no sharp points or edges can arise. The metal hinges have been solidly riveted to the frame to guarantee a long service life.

Delivery Scope
1x Truck Box
1 x instruction manual

Relevance of Dangerous Goods
No
Hand Luggage Suitability
No
Outer Material
Aluminum checker plate
Special Features
With approx. 40 l of storage space you are guaranteed to have plenty of room
Extra stable frame construction for particularly high dimensional stability
Lockable – stable locking mechanism with 2 keys included
Incl. foam rubber seal in the lid – protects against dust & splash water
Two rubberized handles on the sides for ergonomic handling and high loading capacity
The corners have been welded and smoothed off – no sharp points and edges
Made of high-quality aluminium checker plate, which makes the box rustproof and durable
Lightweight and easy to clean
The handles and hinges have been riveted
Can be used as a toolbox, multi-purpose storage container and carrying bag for travelling

Material
Aluminium / checker plate
Material Corpus
Aluminum checker plate
Tickness With Corrugation
2 mm
Thickness Without Corrugation
1.3 mm
Product Family
Aluminium Box
The document to download could not be found.