Nail Drill Set DR-298 - White
*inc. 20AT., free delivery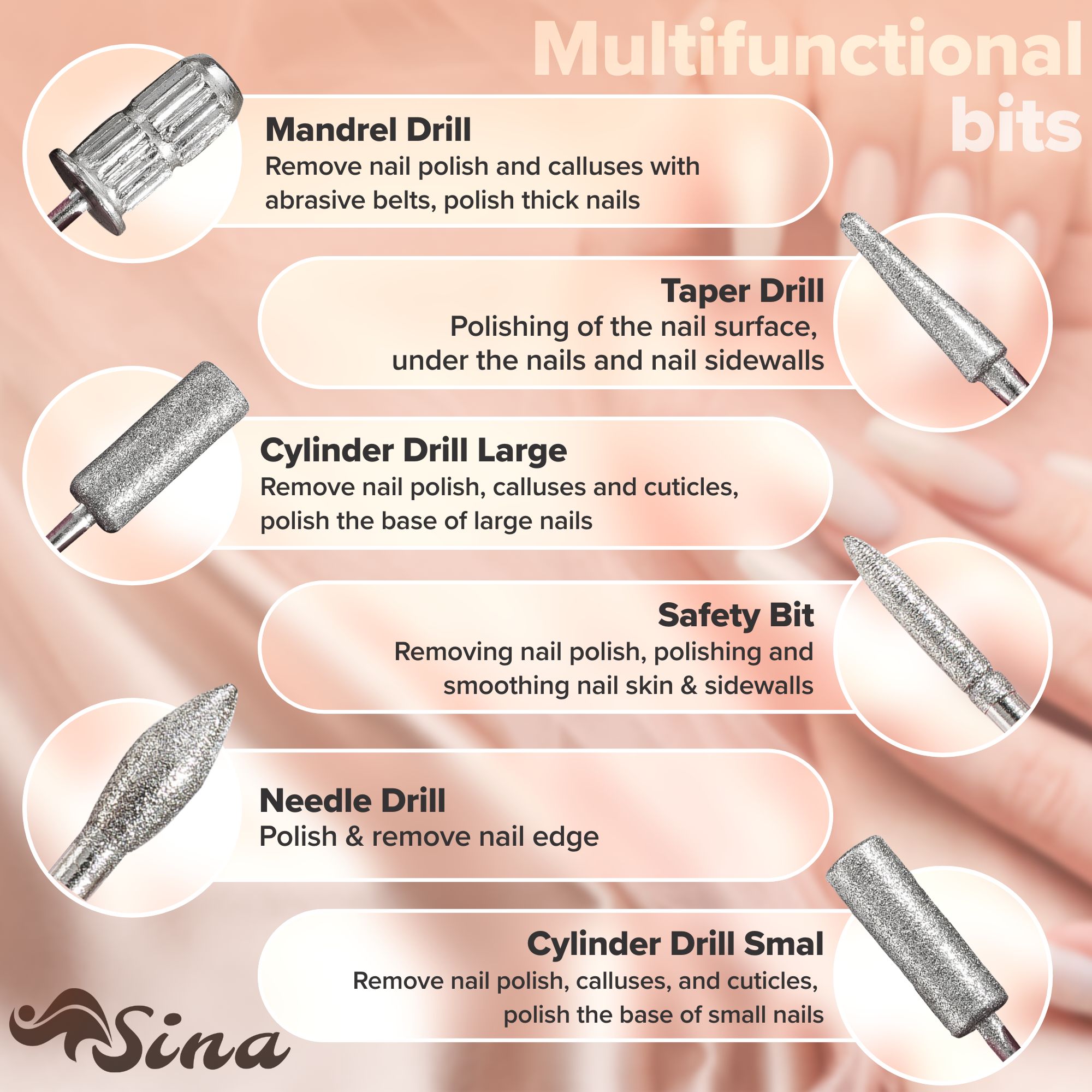 This electric nail file can trim and shape nails, smooth and polish them, remove cuticles and calluses and even help with nail fungus and calluses. It is not only suitable for nail care, but also for nail art.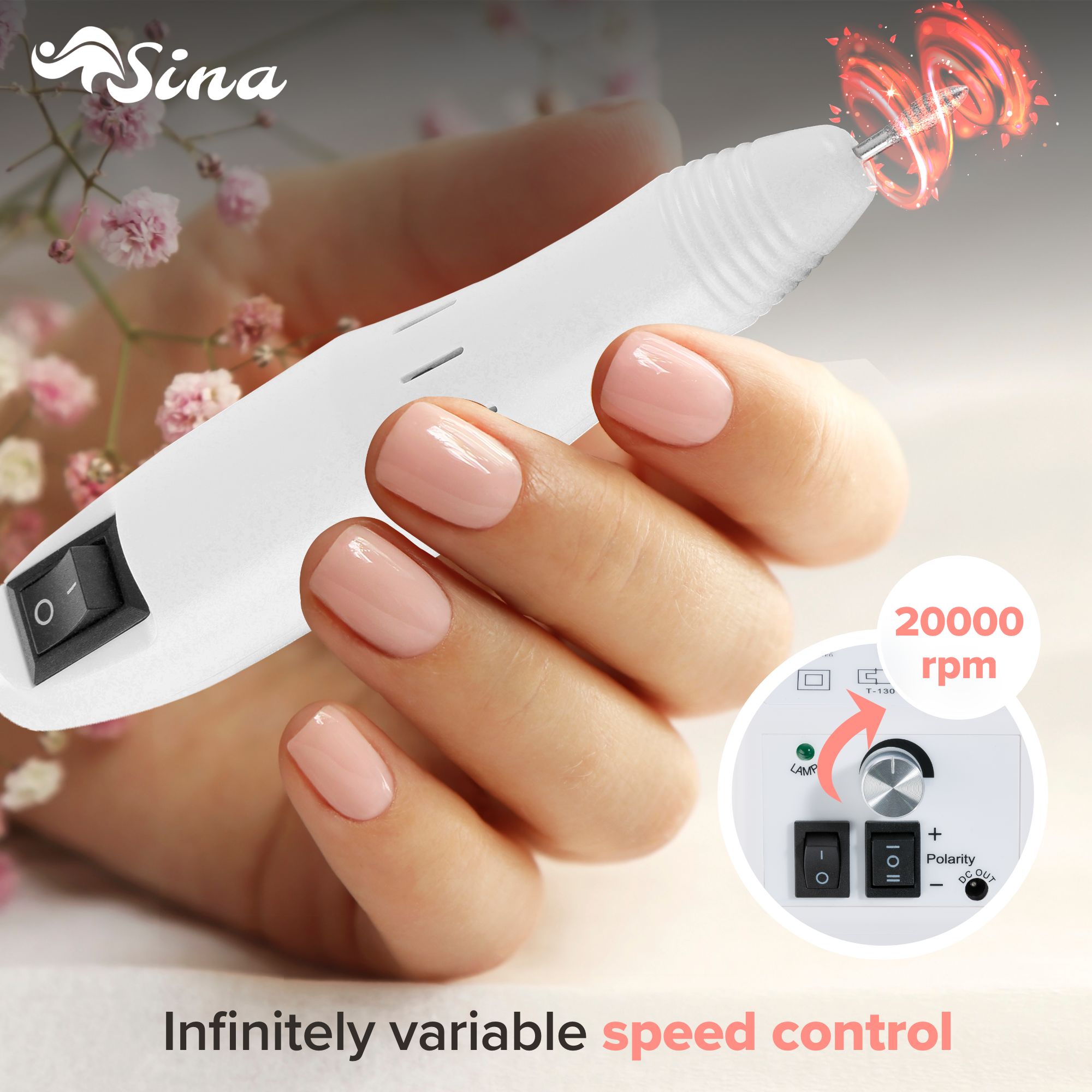 Stepless speed adjustment
The speed of the electric file can be infinitely adjusted from 500 to 20000 rpm. This allows you to respond individually to the condition of your nails. Regardless of the speed selected, the nail cutter runs smoothly at all times.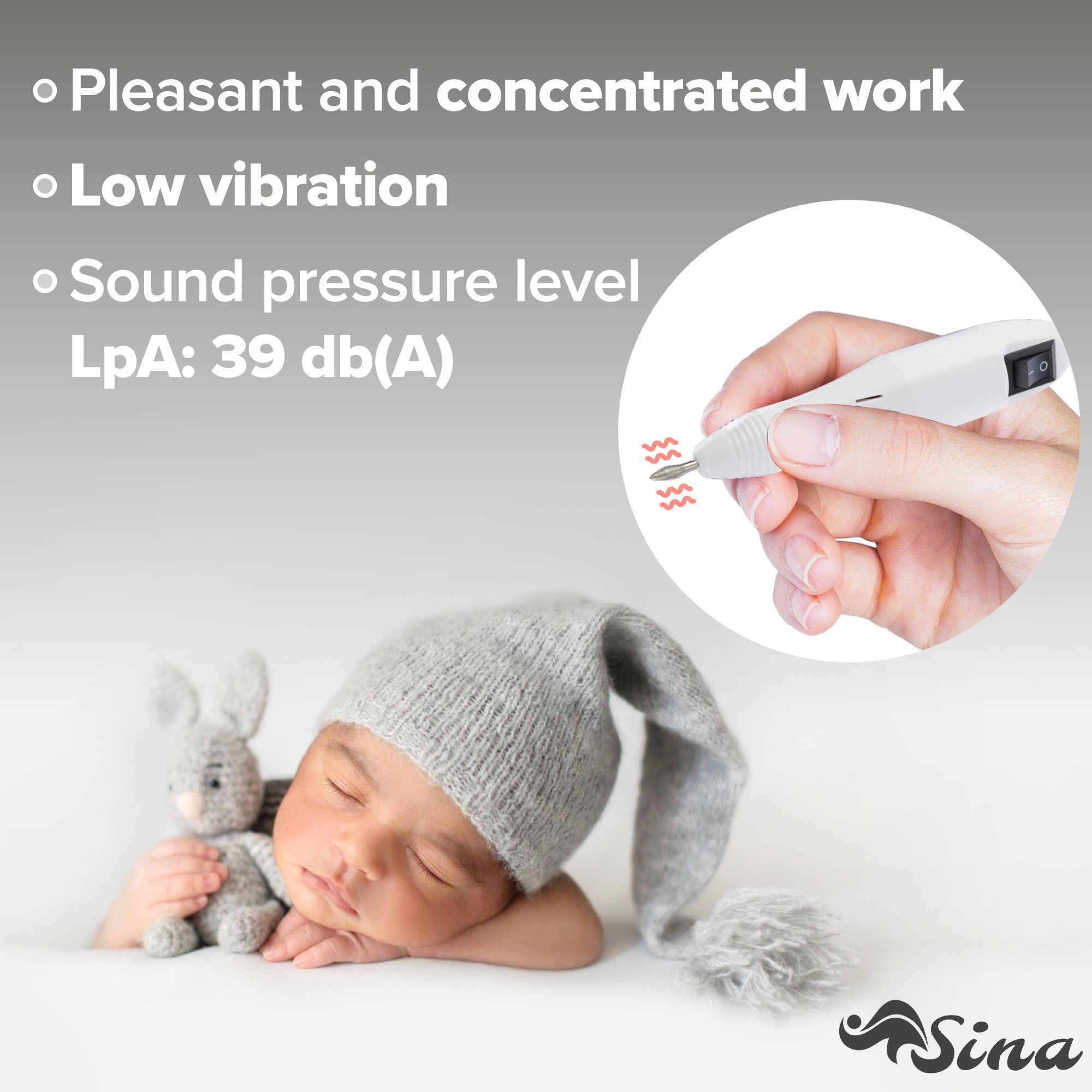 Filing, polishing & styling nails has never been easier than with the powerful and quiet motor of this nail cutter. Low noise, low vibration and adjustable high speed for smooth and long lasting operation for professional nail art.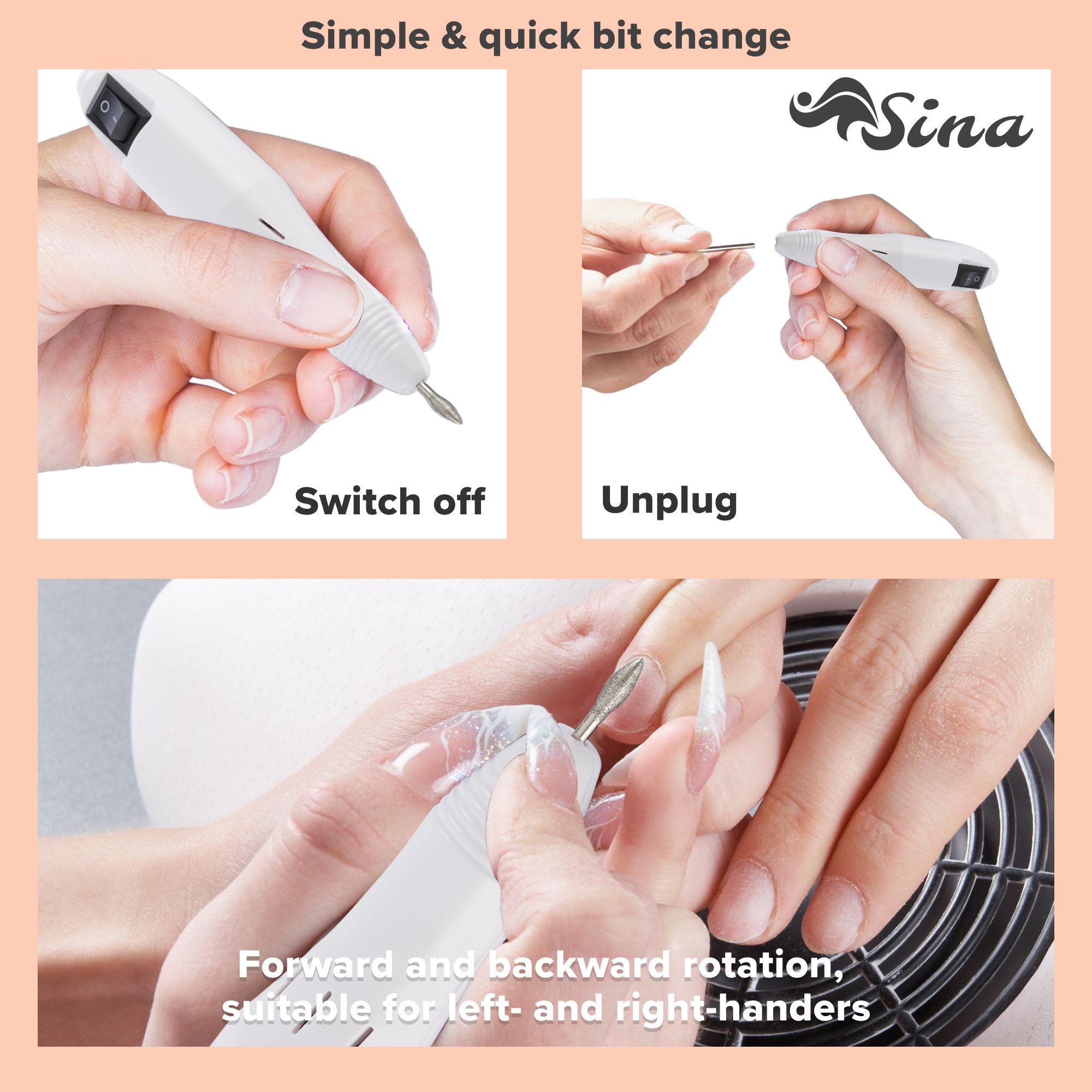 Humanised design with two-way switch rotation direction, for ideal handling and corresponding application comfort, suitable for both left and right hand. Thanks to the twist-lock clamping system, bits can be changed easily & quickly.
Thanks to the compact design, it's easier than ever to have your nail cutter with you on the go. With the nail cutter complete set, you can complete all manicure and pedicure jobs in no time. Forget expensive nail salons and enjoy perfect nails wherever and whenever.
Nail hoover - suitable for your Sina Nail Drill
To prevent nail dust from blocking the motor and to ensure that the nail drill works perfectly for a long time, we recommend the use of a nail dust extractor.
The nail dust extractor is not included in the delivery, but can be purchased separately.
Perfectly designed ergonomic shape - fits perfectly in the hand so that it does not cause fatigue after prolonged use and also has a significant impact on the quality of work. The grip pen weighs only 92 g, making it perfect for comfortable holding and use.
With this accessory set you are perfectly equipped for manicure, pedicure as well as for artificial fingernail modelling. Consisting of 6 bits, 100 abrasive sleeves, 10 nail files, 2 sanding blocks and 30 high-quality diamond cutters with different thicknesses and shapes enable particularly precise work for gel or acrylic nails. The cutters can be sterilised and disinfected.
Age Recommendation
18 and above
Delivery Scope
1x Main unit
1x Handset
1x Handpiece holder
30x Diamond cutters
6x Bits incl. mandrel
100x Grinding sleeves
10x Nail files
2x Grinding blocks
1x Instruction manual
Relevance of Dangerous Goods
No
Equipment
6 bits
100 abrasive sleeves
10 nail files
2 sanding blocks
30 high quality diamond burs
Included Equipment
148 pcs. accessories set
Special Features
20000 revolutions per minute
Low vibration and noise
Comfortable to use with right/left rotation
Easy handling thanks to ergonomic handpiece
Non-slip thanks to feet
The cutter can be sterilised and disinfected
Fast & uncomplicated use with on & off switch
Multifunctional bits, diamond cutters, grinding blocks, nail grinders and grinding sleeves included
Application for private & professional use
Bit Holder
0.126 in (3.2 mm)
Dimensions Handpiece
13.5 cm
Max. Revolutions per Minute
20000 m/mn
Model Name
SI-MA-028-W ( UK )
Running Direction
backward motion; forward motion
Speed ​​Regulation
Stepless
Type of Power Supply
Mains Connection
Product Family
Nail Cutter
The document to download could not be found.